French take on high reach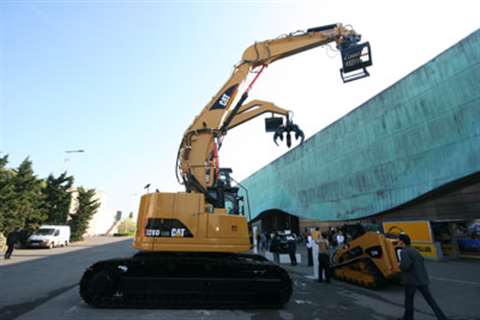 Caterpillar's French dealer, Bergerat Monnoyeur, has modified a 328D LCR compact radius tail swing machine for the demolition role through the fitting of a special 5 m (16.4 ft) stick to give a maximum reach of 14 m (45.9 ft) with a maximum tool carrying capacity of 3 tonnes.
In the words of Bergerat's demolition manager Jacques Gavillet: "There is a growing interest towards the compact radius machines in the demolition industry. They are safer and practical, particularly whan used on demolition projects in cities where the space is often confined. That is why we've built this machine - to offer our customers something that is currently not available on the market."
According to Bergerat, minimal modifications were required on the base machine, and stick changes from standard to demolition can be carried out quickly through a quick release system. A standard 328D LCR weighs in at 33 tonnes, so that D&Ri estimates that with minimal modifications to the carrier, all up weight of the high reach version should be around the 35 tonne mark.