Fully erected Kalmar cranes arrive in Brisbane
By Ian Vallely06 October 2016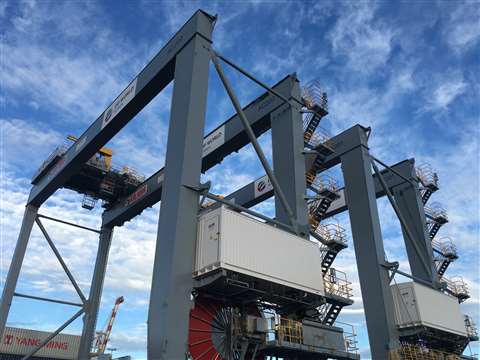 Port equipment manufacturer Kalmar has launched phase 2 of its DP World (DPW) Brisbane automatic stacking cranes (ASC) project with a successful target delivery.
The shipment, carrying two nine-wide ASCs, arrived at DPW in project schedule and in perfect condition. The ASCs were transported fully-erected from China to Australia and unloaded in Brisbane in July. This delivery completes Module one which is an addition to existing seven ASC modules.
Jyri Saarijoki, project director at Kalmar, said, "The successful shipment of fully erected cranes from China to Australia with efficient delivery onto the terminal is an important milestone for Kalmar, and validates the method as an efficient and proven concept."
The delivery of the two Kalmar ASCs marks the fourth successful fully erected ASC shipment from China to Australia. To date, Kalmar has provided DP World in Brisbane with 16 Kalmar ASCs and 16 Kalmar shuttle carriers integrated with Navis N4 terminal operating system. The two new ASCs bring the number of modules servicing container trade to eight and increasing capacity by 14 percent to 720,000 TEU.