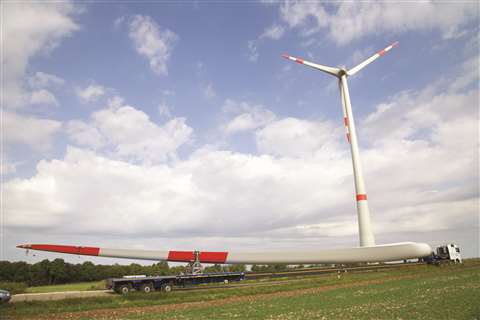 The International Crane Stakeholder Assembly (ICSA) will produce a special guidance paper on standards for access roads and hard stands used during the erection of onshore wind turbines.
The news follows discussions at the annual meeting of the ICSA in Las Vegas, USA, last March, hosted by the Association of Equipment Manufacturers and the Specialized Carriers & Rigging Association.
In addition to AEM and SC&RA, other ICSA members include: the European Association for Specialized Transport and Mobile Cranes (ESTA); the European Materials Handling Federation (FEM); and the Crane Industry Council of Australia (CICA).
The guidance paper will be developed by a new working group chaired by Brandon Hitch, CICA chief executive. It will draw on the well-received work in this area completed by BSK, the German heavy transport and crane association which is also one of ESTA's leading members.
The need to raise safety standards during the transportation and erection of onshore wind turbines is becoming a major issue with some experts saying there are as many as two accidents a month, often caused by inadequate preparation and equipment or poor ground conditions.
The issue was raised by ESTA and FEM in the wake of the organisations' successful specialist conference on the subject in Hamburg, Germany, in February.
Following that conference, ESTA and FEM met VDMA Power Systems, part of the German Engineering Federation and whose members include the major turbine manufacturers. VDMA Power Systems is also discussing developing new best practice guidelines.
Søren Jansen, ESTA director, attended both the ICSA meeting in Las Vegas and the conference in Hamburg. He commented: "It seems as if in each country there is a different way of constructing access roads and hard stands. Everyone is complaining about them, that they are too narrow, not strong enough, and so on.
"We want to create an internationally accepted set of guidelines that we as transport and crane companies will need to make sure that we can drive, deliver, and erect wind turbines safely."
The ICSA work has already started with the next face-to-face meeting planned to take place during the World Crane and Transport Summit in Amsterdam in November.