Future Group to discuss convention outcome
The European Rental Association's (ERA) Future Group is made of 16 managers of European rental companies, issued from younger generations and providing their thoughts and vision on strategic issues of interest to the rental business.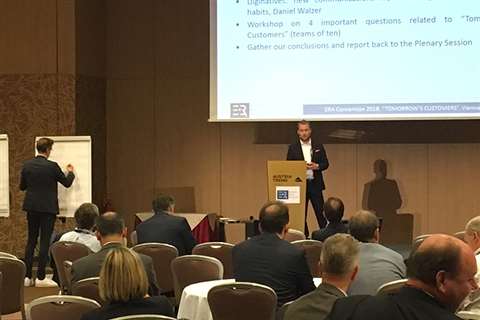 For the first time this year, the board decided to let them create their own workshop during the ERA Convention.
During their very well attended workshop, the Future Group focused on the better understanding of "tomorrow's customers", and more particularly of the "diginatives" (i.e. persons that grow up in the digital age).
Four questions were asked to the audience, using the Convention app for a more interactive session:
Who will be the influencers of tomorrow's customers?
Which payment model will the client use in the future?
Which services do the rental companies need to develop to be ready for the Diginatives?
How will the digital customer journey look like in 10 years from now?
Each of those questions were also debated in roundtables session.
The results of the discussions will be reviewed by the Future Group during their next meeting, on 12 October in Belfast, Northern Ireland.
During the Convention, the Future Group provided all the ERA members with an in-depth web and social media survey, evaluating the online presence and style of communication of the ERA members. The findings were presented in an individual report.
For more information on the Future Group, please do not hesitate to send an email to the ERA secretariat, era@erarental.org