Gap rolls out JobWatch system
By Joe Malone06 September 2018
UK rental company Gap Group has implemented its new on-the-go software system into 400 of its drivers, in order to improve the information process for its staff and customers.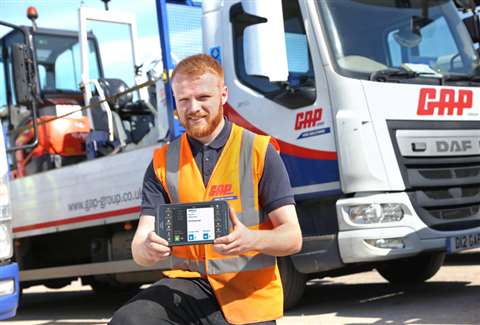 Named JobWatch, the cloud-based system incorporates a range of mobile apps with live tracking and job scheduling, from its rental software platform named BigChange. It also links in real time to Gap's back office systems, such as their central hire desk, financial system and CRM.
The mobile apps include electronic signature capture with proof of delivery (POD) and proof of collection (POC) records automatically uploaded onto the company's Smart Office system. Gap said this eliminated calls to depots as all information would be available for everyone immediately online. Ultimately, GAP's customers will have the ability to access records of their hires themselves, the company added.
The first phase of implementation sees 400 delivery drivers equipped with Samsung tablets and later Gap will extend the system to 200 customer service fitters.
Mark Emery, Gap's systems development manager, said, "The BigChange solution is transforming the way we work by eliminating lots of cumbersome paper forms. The live data feeds to our central systems will result in significant benefits to the business by providing complete management visibility of our operations across the entire depot network.
"This visibility means that for the first time we will be able to manage the entire business nationally, allowing for example, the sharing of plant and equipment between depots. We foresee JobWatch providing significant improvements in utilisation, efficiency and customer service."