Gaylin invests in growth and improvement
By Ian Vallely26 January 2017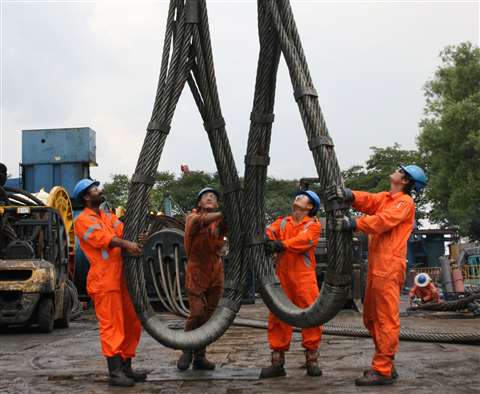 Singapore-headquartered Gaylin, a specialist supplier of lifting, rigging and marine equipment, has initiated a plan to expand and improve its operations.
The company has opened a new facility in Busan, South Korea and is repositioning its Vietnam facility "to address changing trends in the local oil and gas, refining and chemical plant sectors".
In South Korea, Gaylin will co-locate at a purpose-built, 3,967 square metre site with Phoenix Offshore Co, a Gaylin-owned ship chandler supply business. The new facility will stock a full range of equipment, including lifting equipment, marine mooring systems, winch packages and associated services.
Desmond Teo, CEO of the Gaylin Group, said, "We intend to invest further into the local economy and build an industry competent national workforce with the aid of Rigmarine's [another business in the Gaylin Group] development programmes. These programmes have a global track record of building world-class workforces in the oil and gas sector, capable of delivering the highest standards of quality in addition to health and safety compliance."
Teo added, "The opening of the Busan facility marks another significant milestone for the Gaylin Group of companies. We have grown significantly over the past three years despite the industry downturn. This underlines the focus and drive of our management team and our passion to become a global force in our sector. We remain in a phase of growth, but already cover a larger footprint and offer greater diversity of product lines than any other business of our kind."
Gaylin will manufacture wire rope slings up to 128mm diameter in Busan, where overhead cranes offer complete material handling coverage across the site, which also boasts a 2,000 tonne horizontal test machine and a smaller 600 tonne unit. Eventually, Gaylin will use the location to supply more specialist offerings, such as crane examination, light engineering and spooling services.
Gaylin has five other global hubs in the region – Singapore, Malaysia, Indonesia and China and Vietnam – across which a dedicated training and competency programme has been rolled out to ensure personnel are trained on the latest legislation applicable to their respective geographies and marketplaces.
Meanwhile, ongoing development of the Vietnam operation in the Dong Xuyen Industrial Park is focused on implementating a more robust quality management system coupled with a long-term training plan.
Gaylin will also introduce a much wider range of rental assets locally, including specialist equipment such as load cells, spreader beams, testing equipment, winch systems and spooling capabilities.
Mike Duncan, managing director of Gaylin International, said, "Gaylin has the potential to be the market leader in the region with its ability to diversify from a typical rigging shop to go the extra step and provide solutions that similar companies do not have the technical support or stock levels on the ground to cope with."
Gaylin Vietnam was established in 2001 with only a two-man marketing team before it evolved in 2007 and set up in a facility located at the commercial port of Vũng Tàu in the heart of the Bà Rịa province. Today, it has an 11-men strong team that specialises in the manufacture of wire rope slings and spooling services, principally to the oil and gas industry.
The workshop is equipped with a 2,000 tonne Wirop hydraulic press that can manufacture slings from 40mm to 76mm; a 1,000 tonne press from the same manufacturer that can make slings from 3mm to 52mm diameter (both with ferrule secured eyes); and a 300 tonne horizontal tensile testing machine, again from Wirop, that complies with verification and testing requirements of the region.