GB output drops further
By Thomas Allen11 January 2018
Construction output in Great Britain fell by 2% in November 2017, compared to the previous quarter, according to the latest report from the Office for National Statistics (ONS).
Representing the largest fall since August 2012, it was also the sixth consecutive period of quarter-on-quarter contraction.
The ONS figures showed quarter-on-quarter decreases in all new work, which dropped by 2.1%, and repair and maintenance, which fell by 1.7%. However, private housing new work grew by 1.2%.
Despite this decline, it was pointed out that construction output did increase by 0.4% month-on-month in November 2017. This was attributed to a 0.5% rise in repair and maintenance, and a 0.4% increase in all new work.
In the monthly business survey from the ONS, construction output collects output by sector from businesses in the construction industry within Great Britain. Output is defined as the amount chargeable to customers for building and civil engineering work done in the relevant period, excluding value added tax (VAT) and payments to sub-contractors.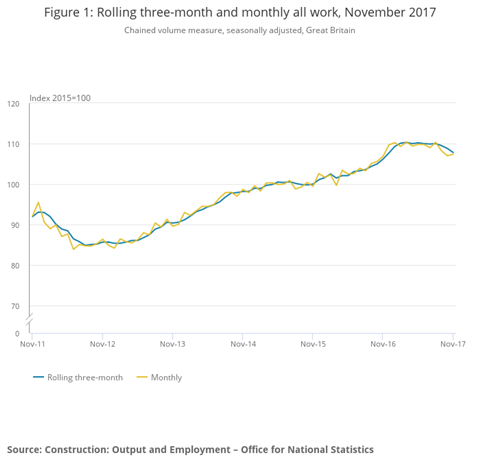 This was the first monthly construction output release to include VAT data from 87,000 businesses on top of the 8,000 in the Monthly Business Survey.
Rebecca Larkin, senior economist at the Construction Products Association (CPA), said, "Today's data confirm what has been signalled by early indicators and industry surveys – that construction ended 2017 on a weak note.
"Past falls in new orders, particularly in the commercial and public non-housing sectors, now appear to be filtering through into lower volumes of work. On a three-month basis, commercial output fell 5.4%.
"It now looks impossible that the industry avoided a full quarter of contraction in Q4, with the £30 billion private housing sector contributing the only positive story. Therefore, construction is set to have caused a drag on overall UK economic growth during the quarter."
The bigger picture
Mark Robinson, CEO of public sector-owned built environment specialist Scape Group, suggested that the ONS figures demonstrated the important role confidence and certainty play in the industry and the wider economy, but said we must not lose sight of the bigger picture.
"The long-term outlook for the construction sector is positive and the public sector will play a significant role in strengthening confidence in the year ahead, because the country's housing and infrastructure challenges will require significant investment.
"The government recently reaffirmed its commitment to innovation and investment in November's Autumn Budget, including the extension of the infrastructure fund."
Despite positive signs shown by private housebuilding, public housebuilding output is still falling significantly short of addressing the shortage of affordable housing, according to Robinson.
"Theresa May has just named the seventh housing minister since 2010 in the midst of a nationwide housing crisis, and I urge the new minister to look seriously at the role local councils can play in affordable housing delivery."
He added, "The government must also seek to create a more connected Britain, and a stronger Northern Powerhouse and Midlands Engine. The UK has a strong pipeline of new work, but we must ensure a joined-up approach on delivery to ensure efficiency and alleviate pressure on the availability of skills."