Geda platform helps record Warsaw build
By Euan Youdale02 February 2015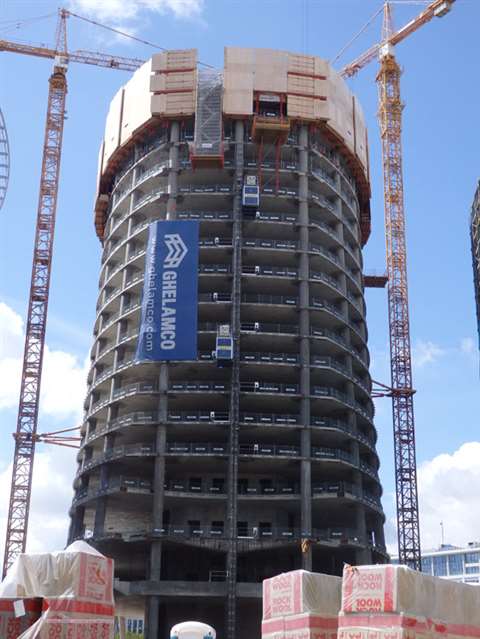 A Geda PH 2032 650 Twin is supporting construction work on the highest building in Warsaw, Poland.
The site was originally home to state-owned Bellona, a book and magazine publisher and printer. Now Eastern Europe, a subsidiary of Belgian construction company Ghelamco, is building Warsaw Spire on it.
The core building will be 188 m high, with its spire bringing it to a total height of 220 m and providing around 60000 square metres of usable space, primarily for offices.
Oval in design, the building has been fitted with a tapered external glass façade which covers the structure like a coat.
This façade is open on one side and projects upwards over the core building. It is flanked by two further buildings, each 55 m high with around 20000 square metres of usable space.
In 2011 Warsaw Spire's architect Jaspers & Eyers Partners won first place in the Eurobuild Awards 2011 for the most challenging project of the year. The total building cost is €250m.
The construction company chose a construction hoist from Ramirent Poland's stock, the Geda PH 2032 650 Twin personnel and materials hoist.
The hoist has a lifting speed of 0-40/65-90 m/min with a maximum lifting height of 400 m. Up to 25 people or 2000 kg of material can be transported on the 1.55 x 3.20 m platform. A PH double car is used on the Warsaw Spire site, meaning two cars - on the left and right side of the mast – can travel upwards and downwards independently.