Geda's foldable platform helps transform Gothenburg Town Hall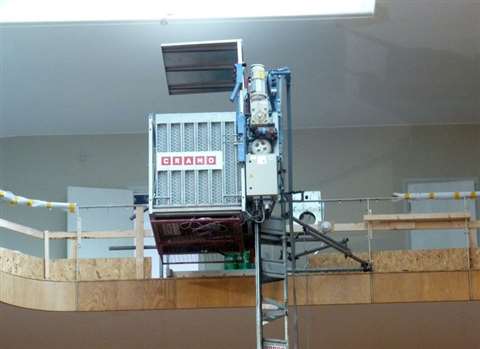 German lift manufacturer Geda has one of its foldable transport platforms at work transforming the internal spaces of the Gothenburg Town Hall in Sweden.
The Town Hall, designed by Nicodemus Tessin and completed in 1672, was built out of Dutch tiles.
The Geda 300 Z/ZP platform is being used for vital renovation works to the inside lobby of the building, which spans several stories up to 10 m high.
Rented by Cramo Sweden, the Geda 300 Z/ZP is being used to transport people and materials to the various floors of the building.
The compact Geda 300 Z/ZP with its foldable working platform was the ideal platform of choice, as it could fit through the narrow streets of Gothenburg and enter the building.
The renovation work is now completed and the lobby of Gothenburg Town Hall is now gleaming in its new splendour.