Geda swaps towers at Munich's Frauenkirche
By Sarah McCay01 October 2014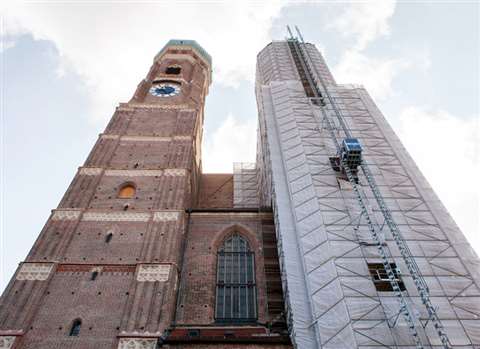 Geda's Multilift P18 has completed phase one of its work on the renovation of Munich's Frauenkirche, as the scaffolding is removed from the North Tower. However, the P18 is not moving far, as it is erected to assist workers on the South Tower.
Renovation work on the 526-year-old cathedral has been ongoing since 2008 as experts carefully restore the façade of the venerable Munich landmark, damaged by weather and old age.
Work on the 98.57 m high North Tower saw 179,000 individual bricks examined and 20% of them replaced and treated. A similar story will be told for the South Tower. In total, 4,000 m2 of external surfaces will have been worked upon by the time the project is completed.
Providing access is the Geda Multilift P18, which is used to transport workers quickly and safely along the façade. Geda's Multilift was chosen because of its ability to work in tight spaces. Foundations are not necessary and the full, pre-installed base unit, which is composed of a car, enclosure, flat cable bin and drive, is delivered as one unit able to be transported in a container or HGV.
The assembly height in the Frauenkirche is 86 m with 28 different stops. The Multilift provides a lifting speed of 32 m/min and a load capacity of 2,000 kg or 20 people.
The rack and pinion hoist comes with an automatic lubrication device as standard. The P18 is also fitted with an integrated landing call box, to enable operators to select which stop they require.
The restoration work on the South Tower is scheduled to last until 2016.