Gehl celebrates with flash
By Lindsey Anderson20 March 2009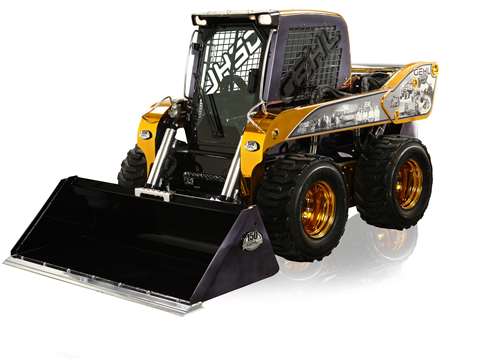 No, it didn't appear on any sort of "Trick My Truck" or "Top Gear" television show. Gehl's largest "chromed-out" skid loader is instead a celebration of the company's 150 years in business.
The 7810E, a 10,000-pound unit, is covered in chrome. "We were looking for a unique way to celebrate our 150th anniversary," said Dan Keyes, vice president of sales and marketing. "What better way to commemorate this milestone than with the most unique machine in our product lineup, all decked-out. There is truly nothing like this machine."
Originally thought-up by Form-I Design, based in Waverly, IA, the 7810E features a reflective gold and black finish and includes laser-cut Gehl logos in the ROPS side screens. Flanked on the lift arm are large decals that display the milestones of Gehl.
The unit's seat is covered in leather and decorated with silver piping with an embroidered Gehl 150th anniversary logo.
For the flashing chrome, Gehl contracted XXX Chrome Plating in Brookfield, WI, where the skid-loader received chrome plating treatments in gold, black and mercury. All of the cab components were sanded and chrome plated and the headliner received a leather treatment to match the operator's seat, the company said. Lastly, custom-made 3-D chrome plates with the Gehl 150th logo were adorned on each side of the loader's bucket, front of each lift arm and the rear engine cover.
The unit will be on display for the first time at the WPS Oshkosh Farm Show in Oshkosh, WI on March 30.