Generac grows transfer switch line
By Mike Brezonick28 February 2023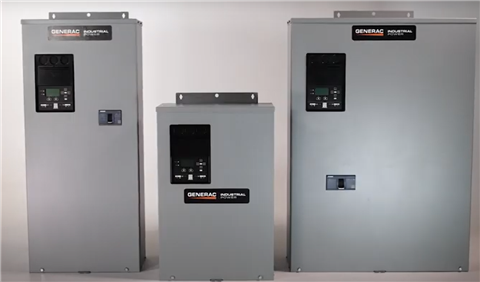 Generac Industrial Power, part of Generac Power Systems and a global supplier of power generation equipment and components, is broadening its line of TX Series transfer switches. The new switches target light commercial, industrial and mission-critical applications.
"Generac continues to expand on our journey to design more versatile and robust transfer switches," said Brandon Bassler, director of sales at Generac. "Generac sought to design a contactor mechanism to achieve high withstand ratings, and our engineering team designed something revolutionary. The contactor mechanism is maintenance-free and one of the fastest in the market, allowing smooth in-phase transition."
The TX line now incorporates 600-, 800- and 1000-amp service and non-service entrance transfer switches in single- or three-phase configurations with two, three or four poles. They offer three-phase under and overvoltage sensing and frequency sensing on both normal and emergency power sources.
Delivering what the company said are some of the highest withstand and closing ratings (WCR) in the industry, they incorporate a double-throw, interlocked over-center contactor mechanism engineered to ensure safe, positive transfer between power sources. The contactor has self-cleaning, maintenance-free sliding silver composite contacts designed to resist pitting and burning and provide longer service life. The parallel blade design magnetically latches onto the source and provides market leading three-cycle withstand ratings, Generac said.
A microprocessor-based controller with two programmable inputs and one programmable output yields the flexibility to program a comprehensive group of setpoints to meet specific application requirements. The controller can is also expandible for up to four programmable inputs and outputs, the company said.
Other standard features of the controller include three-phase sensing on both sources, phase unbalance, phase reversal, load shed and emergency inhibit.
A built-in backup battery energizes the controller until the power source – generator or utility – is available. This, the company said, eliminates the need for a controller to reboot, which can consume valuable time during a power loss and also helps achieve a 10-second start of an emergency backup system for NFPA 110 for type 10 applications.
An LCD display shows real time and historical information and an integrated plant exerciser can be configured for daily, weekly, biweekly and monthly intervals with user selected run times.
A modular design and removable panels are design to allow installation by a single person, Generac said, while a front accessible USB port enables the user to retrieve data and upload custom programming and firmware updates safely without the use of PPE. Options include remote annunciators, padlockable controller covers, programmable heaters for temperature and humidity control (standard on all outdoor models), transient voltage surge suppressors and manual generator retransfer switches.
The TX Series transfer switches are UL 1008 certified and built by Generac in the U.S.