Genesis Attachments extends demolition tool lines with new Versi Pro and GDRs
By Lindsay Gale22 February 2010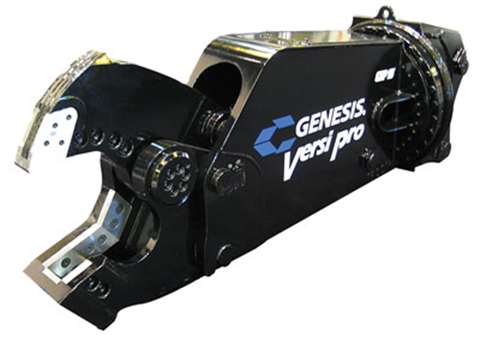 Genesis Attachments latest Versi Pro shear is the Versi Pro 15, which has been designed, according to the company, to allow 'contractors to ramp up the versatility of their mid-sized machines'. According to R&D development manager Steve Letko: "due to its moderate size and easy mobility, there seems to be a growing interest in this class of excavator.
By coupling that machine size with the advantages offered by the Versi Pro 15, contractors in markets such as demolition, lighter scrap recycling and so on can dramatically raise their levels of onsite efficiency." Two jaw configurations are available, shear and concrete cracking, and the company says that jaw set change-overs are achievable in 10 minutes using standard tools.
In addition to the new Versi Pro, Genesis has also added two new processors to its demolition recycling line in the shape of the GDR 150, designed for use on 15 tonne carriers, and the GDR 300, designed for use on 30 tonne carriers. Both tools are available in three jaw configurations - shear, crusher or pulveriser. According to design engineer Don Raihala: "[Contractors] now have the ability to utilise a lighter-weight, yet more powerful processing tool on a standard or high reach machine, which can really open the door to previously unbiddable projects."