Genie articulated launches at APEX
By Euan Youdale27 May 2014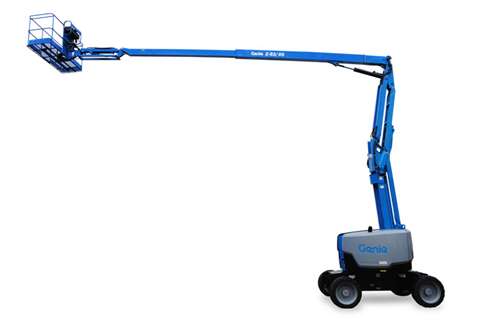 Terex AWP's Genie will launch two articulating booms at APEX 2014: the Z-62/40, an update of the Z-60/34, plus a new addition to the same range.
The latter will be built in Europe to suit the needs of customers there and is said to be compact, lightweight and designed for indoor and outdoor applications in confined spaces. No further details are available yet, but go along to the Genie booth at APEX (9350-450) where all will be revealed.
The new Z-62/40 is an update of the Genie Z-60/34 with significant modifications and is available in all markets. Its working height has been increased from 18.39 m to 18.87 m and it provides more horizontal outreach - 12.42 m compared to 11.05 m with the Z-60/34.
It still delivers an up and over clearance of 8.23 m with a maximum lift capacity of 226.80 kg. The boom offers zero rear tail swing and minimal front turntable tail swing in the stowed position and has a below ground reach of 1.68 m, said the company. The machine weighs 9933.77 kg and stows to 7.57 m with the jib tucked.
The 5ft articulating jib, with 135 degree range of motion, is designed to allow the operator to position the platform in nearly any location. While the dual parallelogram lift linkage allows precision positioning.
The Genie Fast Mast system lowers the platform to the ground without having to lower the secondary boom. Operators can quickly descend and retrieve needed tools and return back into position with just one boom function.