Genie compact first in Spain
By Euan Youdale28 August 2020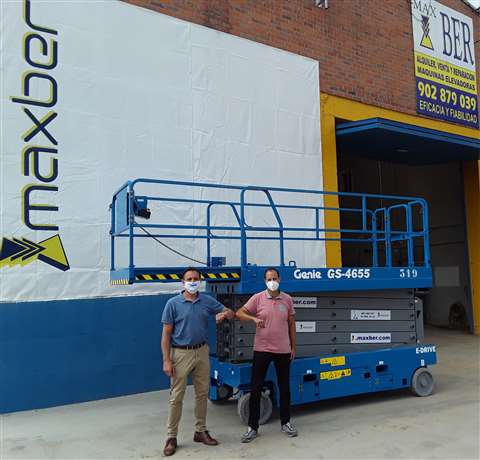 Spanish rental company Maxber has taken delivery of the first two compact Genie GS-4655 slab scissor lifts in the country.
The lightweight, heavy-duty scissor, with front-wheel alternating current (AC) E-drive motors, complements the Maxber fleet for today's increasingly high warehouse, narrow-aisle access applications. Both units were delivered this month.
Offering an indoor working height of 15.95m, thanks to the Genie Smart Link Dual Zone control system, the new Genie GS-4655 scissor lift can also work outside up to 8.55m , which increases its versatility. At 1.4m wide, the GS-4655 is ideal for narrow-aisle job sites, and at a weight of just 3,700kg, the unit can also work on sensitive, load-restricted slabs and floors. Its low weight also offers the advantage of reducing transport costs. A gradeability of 25% and a breakover angle of 14° provide the ability to climb steep slopes as well as ramps, making transport easier.
Bernardo Gomez, CEO of Maxber, said, "We are strong believers in innovation and continuous improvement. We always aim to be at the forefront in terms of offering our customers innovative product solutions that use today's latest technology and the Genie GS-4655 scissor lift is one of them."
Thanks to its new AC system, which replaces traditional hydraulic drive motors, the model relies on less hydraulic service points, reducing service time and costs, as well as making it cleaner and greener to operate.
Gomez continues, "The GS-4655 scissor lift is a very interesting machine that is well adapted to the rising trend for higher warehouse applications since warehouse owners are optimising space by building higher buildings with narrow aisles to gain extra storage volume."
"In addition to allowing us to continue to differentiate ourselves from our competitors, it fills a gap in the market that offers us new business opportunities in a sector of activity which, until the launch of this innovative Genie development, was not well covered."
Like all the latest Genie machines, the GS-4655 incorporates the Genie Lift Connect Telematics geolocation and fleet management system that provides benefits not only to us as equipment owners, but also to end users. Among others, remote diagnosis of faults, scheduling of maintenance so as not to interrupt end-user working days and optimise technical resources, are strong features.