Genie debuts new boom accessory
By Lindsey Anderson16 November 2018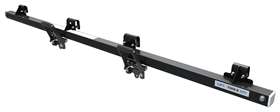 Genie is now offering the Expo Installer tool designed for 6-foot and 8-foot articulating and telescopic boom platforms. The indoor-use-only aftermarket accessory allows operators to hang signs, banners and décor at height. It is available through Genie Genuine Parts.
Ideal for use in convention centers, arenas, malls, theaters and other locations that decorate with suspended ornamentation, Genie said the new accessory helps to maximize safe productivity while operating Genie booms. This accessory is ANSI certified and is currently available in North America. It will be available in select areas of Europe, Middle East, Africa and Russia (EMEAR) in the future, pending CE certification and country-specific regulations approval.
Similar in design to the Genie Fall Arrest Bar accessory, the productivity tool consists of a sliding track design with two trolleys that can carry a combined capacity up to 240 pounds (108 kg) and can be used with various rigging types for easy and precise décor placement. When lifting to height, brake pads secure the trolleys from sliding when machine is in motion.