Genie debuts new products at ARA Show
By Lindsey Anderson11 February 2020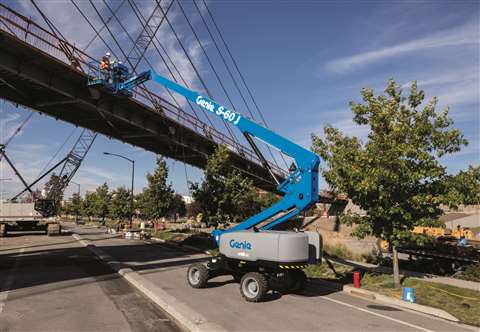 Genie has debuted the S-60 J telescopic boom. The jibbed unit features an unrestricted platform capacity of 660 lb (300 kg) with a 6-ft (1.8 m) jib, a 16,650 lb (7,550 kg) operating weight and compact chassis design, a platform height of 60 ft 10 in (18.5 m) and horizontal reach of 40 ft 6 in (12.3 m) and 1 ft 10 in (56.4 cm) of ground clearance to clear obstacles.
"This new addition to the Genie boom line offers rental companies the opportunity to increase their rental return on invested capital (rROIC) by mixing their fleets with a variety of Genie booms, matching the right boom to the right application," said Sean Larin, Genie Product Manager, Terex AWP. "Within a rental fleet, the Genie S-60 J model complements the popular heavy-lifting Genie S-65 XC (Xtra Capacity) model, which is well-suited for heavy trades work, such as commercial construction, structural, electrical and plumbing, as well as specialty applications."
The Genie S-60 J boom is equipped with a standard 6 ft (1.8 m) jib and unrestricted platform capacity of 660 lb (300 kg), allowing for two occupants plus tools. The Genie S-60 J model offers a platform height of 60 ft 10 in (18.5 m) and horizontal reach of 40 ft 6 in (12.3 m.) "Leading the class in length and capacity, this new generation of Genie telescopic booms offers the right rental solution to get work done at height," said Larin.
The Genie S-60 J boom comes standard with a 24-hp (17.8 kW) Kubota D1105 diesel engine (Tier 4F or Stage V compliant) and rough-terrain, foam-filled tires. Offering true rough terrain performance, this new Genie J boom is a 4WD machine equipped with Genie patented active oscillating axles.
Rental companies have the option to purchase the machine with a 49-hp (36.5 kW) Kubota D1803 turbo diesel engine (Tier 4F or Stage V) and non-marking, rough-terrain, foam-filled tires.
The new Genie S-60 J telescopic boom is engineered to meet jobsite needs globally, the company said. Equipped with Genie digital load sense technology for accurate load weighing and zero-load field calibration, it adheres to the overload guidelines for ANSI A92, CSA B354, EN280 and AS 1418.10 standards. Its single-envelope operation provides simple calibration and troubleshooting due to the use of simple and reliable components and sensors. The new model also comes standard with the Genie Lift Guard Contact Alarm system.
Hybrid activity
Genie also debuted its Z-45 FE hybrid articulating boom lift. The Z-45 FE boom features an unrestricted range of motion and a maximum lift capacity of 660 lb (300 kg).
"With two modes of operation (all-electric or hybrid), the Genie Z-45 FE boom offers rental companies a versatile, sustainable and powerful '2-in1' solution adapted to indoor, as well as outdoor, applications, even where on-site electric power is not available," said Marie Engstrom, Genie Product Manager, Terex AWP. "And with its robust lift capacity, operators can take up 30 percent more materials in the platform for increased productivity as compared to other hybrid machines in this height range. These features translate to additional jobsite utilization and longer rental opportunities."
The new Genie Z-45 FE boom lift features AC drive motors that provide similar torque as hydraulic drive motors while using 30-40% less energy. "Offering full-time 4WD and equipped with electronic traction management, active oscillating axles and the ability to travel 4.0 mph (6.44 km/h) drive speed for quick travel around jobsites, this new Genie hybrid model provides the ultimate rough terrain performance," said Engstrom.
She added: "The low-maintenance IP67-sealed AC drive motors are designed to significantly prolong battery charge while reducing operating and maintenance costs for excellent rROIC."
To adhere to specific low noise or low emissions requirements on sensitive jobsites, this new model boasts zero-noise operation for use in urban or nighttime environments, as well as zero-emissions operation for use in indoor applications and emissions-restricted outdoor environments.
"We designed this new model using the same hybrid technology as its higher lifting Genie Z-60 FE (formerly Z-60/37 FE) sister model," said Engstrom, which means the new Genie Z-45 FE can operate in two modes: all-electric or hybrid.
• In "all-electric" mode, it provides the ability to work a full shift on a single battery charge.
• In "hybrid" mode, it offers more than a week of run time on a single tank of diesel.
"With the Genie FE technology, operators can easily use one machine for any application, changing from full-electric operation to high-performance hybrid operation with the flip of a switch without sacrificing performance in rough terrain," said Engstrom.
While operating in "hybrid" mode, the Genie Z-45 FE boom lift utilizes a 24.8 hp (18.5 kW) Kubota D1105 T4F/Stage 5 engine-powered generator to maintain the state of charge of the batteries. This mechanically controlled engine has no after-treatment or low-sulphur fuel requirements.
With energy efficiency in mind, the hybrid system also allows the machine to recover energy generated when braking or descending inclines, which is in turn used to recharge its batteries. The Genie Z-45 FE boom comes standard with high-capacity 335Ah maintenance-free AGM batteries (315Ah FLA batteries optional).
The new model also has the ability to do zero-load field calibration for platform capacity. "This means that it can be calibrated, in most cases," said Engstrom, "without loading the platform with weights." It is also equipped with a modern load sense system that continuously checks the weight in the platform and disables lift and drive functionality if the load is above the platform load limit.
"When we designed this new hybrid boom, we stayed focused on user interface and simplicity to make the machines easy to use, simple to service and deliver a high rROIC," added Engstrom. "For example, this new model is equipped with a state-of-the-art CAN-based control system, which incorporates familiar features from the Genie Smart Link™ control system. Operators will find the control layout on this boom to be consistent and intuitive, making the operation of the booms easy and straightforward."
Onboard diagnostics allows for machine setup, calibration and troubleshooting on Genie Z-45 FE model.
The Genie Z-45 FE boom lift features a maximum working height of 51 ft 8 in (15.92 m), a maximum horizontal outreach of 22 ft 9 in (6.94 m), a maximum up-and-over reach of 24 ft 7 in (7.50 m) and a 660-lb (300 kg) maximum lift capacity in the 52-ft (16-m) hybrid boom lift class. And, its 5-ft (1.52 m) articulating jib with a 135° vertical rotation provides the ability to position workers accurately.
It is equipped as standard with foamed-filled, non-marking all-terrain tires, which add to the machine's outdoor and indoor versatility.
Genie also offers two machine variants to complete its "green" 45-ft (13.92m) articulated boom product offering — the Genie Z-45 DC and the Genie Z-45/25 DC models.
The company also showcased global-spec vertical mast lifts, global spec scissor lifts, the GS-4655 scissor, HF and TraX booms and its telematics system.