Genie expands Georgia distributor network
By Leila Steed19 September 2019
MEWP manufacturer Genie has expanded its network in Georgia by appointing Elite Motors as a distributor.
The construction equipment provider will now offer Genie's full range of aerial access equipment, telehandlers and jobsite support equipment. Lighting towers made by Terex, Genie's parent company, will also be available from the distributor.
Okan Acar, Genie sales manager for Turkey and the Caspian Sea region, Terex AWP, said, "Thanks to this new collaboration, customers in Georgia now have easy access to the full range of Genie products and parts support in a growing market where premium, high-quality aerial equipment is under increasing demand."
Zviad Antelidze, general manager Elite Motors, said a steep rise in new construction projects and in tourism was creating a bigger need for access equipment.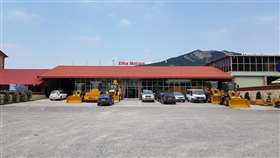 Antelidze said, "In addition to their construction, these facilities will need maintaining with the right equipment. Until now, emerging Chinese brands have been predominant here. Today, thanks to our new distributor agreement with Genie, customers can now take advantage of the 53 years of experience and continuous innovation of a world-leading, global brand."