Genie launches secondary guarding in Australia
By Sarah McCay11 December 2014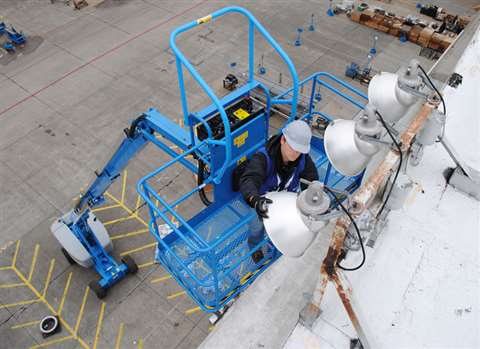 Genie is introducing two secondary guarding solutions to Australia: the Genie Operator Protective Structure (OPS), a mechanical system, and the Genie Operator Protective Alarm (OPA), an electrical system.
The Genie OPS is an optional device for installation on articulating or telescopic boom lifts and provides secondary protection for operators in the event of contact with an overhead obstacle.
"We are aware of incidents where operators made contact with overhead obstacles while operating aerials," said Brad Lawrence, general manager, Terex AWP. "The operator in conjunction with the worksite supervisor is responsible for identifying and avoiding overhead obstacles. But as a secondary measure, we are working both independently and with various partners to provide protective solutions for a variety of worksite conditions."
The Genie OPS can be attached to most boom lifts with 1.83 m (6 ft) to 2.44 m (8 ft) platforms. The tubular steel structure is designed to transfer the kinetic energy into surrounding structures while maintaining a protected area for the operator.
The OPA system is designed to alert ground personnel when an operator makes contact with the platform control panel. The system interrupts boom movement, sounds an alarm and causes a light to flash when excessive pressure is applied to the sensing bar. The Genie OPA system can be retrofitted to Genie articulating or telescopic boom lift manufactured after 2002. It is available as an aftermarket option.