Genie launches two new articulating booms at APEX
By Lindsey Anderson24 June 2014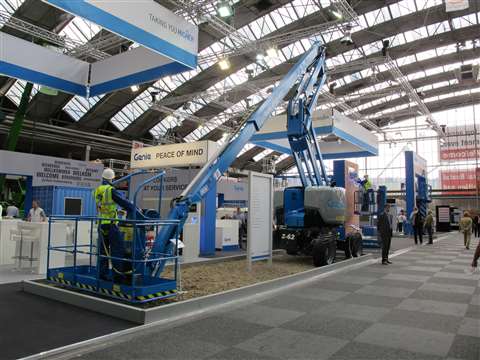 Genie used APEX, June 24-26 in Amsterdam, to launch two new articulating booms, the Z-33/18 and the Z-62/40.
The compact, ligthweight and electric Z-33/18 is designed for both indoor and outdoor applications and is geared toward European markets.
The Z-33/18 weighs 3,640 kg (8025 lbs) and offers a ground clearance of 15 cm (5.9 in). The new Z-33/18 lift features solid non-marking or multi-surface tires as an option, a low-consumption AC drive transmission, a tight turning radius, the ability to drive at maximum height, plus the benefits of the Genie FastMast boom system that shortens ground-to-top lifting time.
"This is a completely new model designed from the ground up to offer a great combination of lightweight, compact dimensions and 'up-and-over' lift capabilities combined with powerful drive motors. Our customers are demanding versatile boom lifts for sensitive indoor tasks that are also capable of meeting general outdoor maintenance applications," says Carlo Forini, director of business development and product management, Terex AWP EMEAR. "Although this product was developed for the European market, it is a new generation of Genie boom lift that offers features and capabilities suited for customers all over the world."
Featuring a compact 1.9 m (6.3 ft) wheelbase providing a gradeability of 30 percent, the Genie Z-33/18 articulating boom lift offers a working height of 12 m (39.4 ft), a horizontal reach of 5.6 m (18.3 ft) and an up-and-over clearance of 4.28 m (14.1 ft). In addition to a 76 cm (2.6 ft) long x 1.16 m (3.1 ft) wide platform, the man basket supports weights of up to 200 kg (440 lbs).
To make transport easier, this compact unit's boom stows down to 1.50 m in width (4.11 ft) and 4.17 m (13.5 ft) in length. Drive speed is 6 km/hr (3.7 mph) combined with a 48V DC 315 Ah boom power source.
The new Genie Z-33/18 boom lift features mechanical switches that are conveniently protected within the boom to avoid damage.
The Genie Z-33/18 articulating boom model will be available across Europe, the Middle East, Russia and Africa (EMEAR) in Q4 2014. Availability for other parts of the world is scheduled for Q1 2015.
Genie also showcased its new Z-62/40, an update of the Z-60/34.
The new Z-62/40 is an update of the Genie Z-60/34 with significant modifications and is available in all markets. Its working height has been increased from 18.39 m to 18.87 m and it provides more horizontal outreach - 12.42 m compared to 11.05 m with the Z-60/34.
It still delivers an up and over clearance of 8.23 m with a maximum lift capacity of 226.80 kg. The boom offers zero rear tail swing and minimal front turntable tail swing in the stowed position and has a below ground reach of 1.68 m, said the company. The machine weighs 9933.77 kg and stows to 7.57 m with the jib tucked.
The 5ft articulating jib, with 135 degree range of motion, is designed to allow the operator to position the platform in nearly any location. While the dual parallelogram lift linkage allows precision positioning.
Genie can be visited at stand 9350-450 at APEX.