Genie lift in radioactive upgrade
By Euan Youdale21 August 2020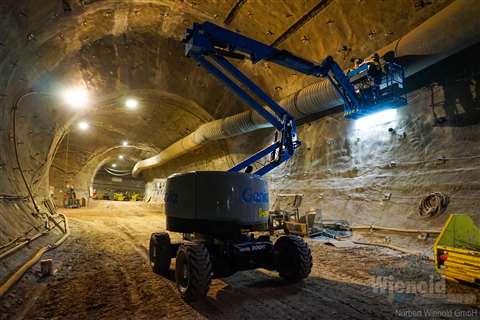 As part of the transformation of a disused iron ore mine in Salzgitter, Lower Saxony, Germany, Genie distributor Wienold Lifte supplied ETS Schacht Konrad Consortium with an articulating Genie Z-45 XC boom lift.
Working at 1,000m below ground at a constant temperature of 40°C, the machine is proving well suited for supporting workers in preparing and stabilising existing tunnels and newly bored storage chambers in what will be become Germany's first deep geological repository for low and medium-level radioactive wate (Konrad Pit).
Accessible only by industrial elevator, Wienold Lifte entirely dismantled the boom lift to access the pit. To adapt to the site's strict fire safety measures, the company also equipped the machine with fire-resistant hoses. Delivered in parts via the elevator, within three days the machine was reassembled and ready to work on site underground.
"The temperature down there is at a constant 40°C (104° F), which makes every movement a real effort," explains Martin Sztykiel, workshop manager, Wienold Lifts. "The Genie Z-45 XC boom will be staying in the pit for its lifetime. Given the heat, plus the challenges of the work itself, it takes particularly robust and high-quality equipment to perform reliably in such tough conditions."
Diesel-powered
From experience, ETS Schacht Konrad Consortium says that, when working in a very hot environment with heavy tools and materials, diesel-powered equipment is better suited to the nature of the task and site conditions with insufficient charging possibilities.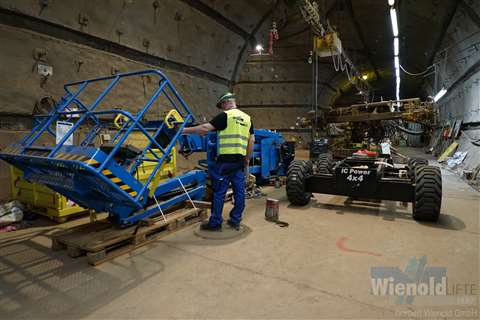 "In addition to working at height, the Konrad Pit requires equipment that can operate with the site's slopes and gradients," said Christian Wienold, managing director, Wienold Lifte. He continues: "Equipped with a 35.8 kW diesel engine, the Z-45 XC offers excellent 4WD abilities. As a result, the machine is contending with the job and the terrain with ease."
The transformation of the old ore mine is part of a long-term process. In preparation for its future as a repository, a boring machine is being employed to enlarge existing tunnels and to open up new storage chambers. Then, the mine experts rework the walls employing appropriate equipment.
The Z-45 XC is first used to prepare the wall by drilling holes and reinforcing them with steel. Once this task has been completed the boom is positioned at the centre of the tunnel where it is operated in sweeping, semi-circular movements to enable operators, equipped with a spraying machine, to stabilise the tunnels and finish the walls with a covering of concrete applied from the ground to the ceiling.
Thanks to its dual-envelope design and lift capabilities of 300kg unrestricted and 454kg restricted, this machine provides the ability to have two workers operating two concrete sprayers simultaneously, a productivity increase that would not have been possible with the standard lifting capacity of 227kg.
"More than height, what counts the most on this job is reach capabilities to work productively. If operators had had to use a scissor lift, they would have needed to reposition it at least 20 times a day," says Wienold. "With the Genie Z-45 XC boom, they benefit from 7.55m horizontal outreach and an up-and-over clearance of 7m that enables them to prepare and stabilize the walls which is saving them a lot of time. And when they do have to move it, the unit's tight turning radius and zero turntable tailswing are a definite plus that makes manoeuvring in the relatively narrow shafts through junctions and curves much easier."