Genie solutions for Mauritania gold
By Euan Youdale05 November 2019
The Tasiast mine in the Inchiri region of north west Mauritania is one of the largest gold mines in Africa. It operates a fleet of articulating and telescopic rough terrain Genie GS scissor lifts, S, Z and Xtra Capacity (XC) boom lifts, and has also turned to the manufacturer for technical training and its Genie Service Solutions (GSS) Preventative Maintenance contract.
Owned by Kinross Tasiast Company and operated through its subsidiary Tasiast Mauritania, the mine uses its MEWPs on a daily basis for the maintenance of the mine's processing plant, heavy equipment and power distribution lines, as well as for construction projects onsite. "It's tough, heavy work in a tough environment that takes its toll on machinery," said Mohamed, (MEM training and development superintendent).
He continued, "With safety and uptime in mind, we approached Genie for support in keeping our machines serviced in-line with the specifications of their service manuals and to train on our technicians to bring them up to industry standard."
The preventive maintenance contract involves in-depth inspections and operational health checks on a twice-yearly basis. The training to date has included three weeks of instructor led training, backed by lessons followed via the Genie's Tech Pro eLearning website. Mohamed explains: "Based on their previous experience in mining, most of our maintenance and construction team is familiar with Genie equipment. We are satisfied with the technical support that Genie is providing and are looking forward to consolidating our partnership in this area in the future."
He continued, "Our technicians have already completed more than fifty different on-line modules that have enabled them to acquire solid, theoretical foundations. We are already seeing a significant improvement in their maintenance skills that is leading to increasing the uptime and the performance of our Genie fleet."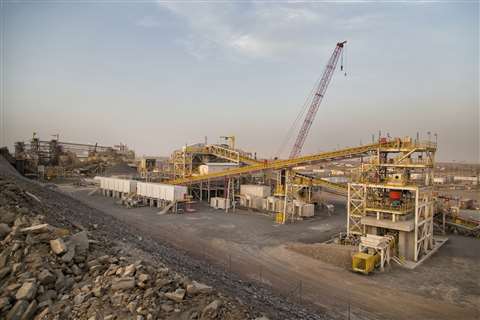 For Vincent Vaché, Genie senior technical services manager for Europe, Middle East, Africa and Russia region (EMEAR), added, "Unlike other markets, in Africa there is a marked tendency for specialisation in terms of skills. Technical versatility is not particularly developed. There are hydraulicians and electricians, but with the help of Kinross's internal training department, we were able to identify their team's specific needs and define the teaching objectives.
Vaché concluded, "Preventative maintenance and technical training are part of this commitment that, as Kinross have seen, plays a key role in keeping equipment safe to operate while increasing its availability. While this is true for mining, the same applies to a wide field of other sectors such as oil, gas, port operations, logistics and construction."