Genie suffers from challenging markets
By Euan Youdale14 February 2020
Terex AWP, which incorporates Genie and Terex Utilities, has announced a fall in sales during the fourth quarter of its 2019 financial year, as a result of the challenging markets in North America and Europe.
Net sales stood at $500.1 million for the quarter, down 20.8%, compared to the same period in 2018. Over the full financial year Terex AWP sales were down from $2,950.4 million at the end of 2018 to $2,726.6 million.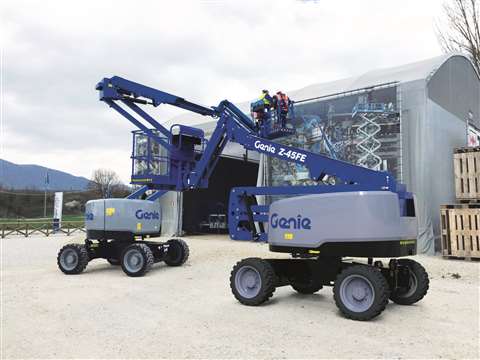 Income from operations in the fourth quarter were down 88%, from $37.1 million in 2018, to $4.4 million. Income took a lesser hit in the full 12 months, with the segment reporting a year-on-year fall of 34.7% to €196.2 million. Globally, Terex AWP's backlog totaled $753 million and bookings in the quarter were $755 million.
"AWP's 2019 results reflected cautious customer sentiment in the segment's largest markets, North America and Europe. When combined with manufacturing production below retail demand to reduce inventories, operating margins were challenged," said the company in its financial statement.
The entire Terex Corporation group experienced a 15.6% fall in net sales of $885 million for the fourth quarter, while full 2018 sales stood at $4353.1 million, representing a 3.6% drop.
Regarding the results for the Genie brand, Matt Fearon, president, Terex AWP, said, "The fourth quarter completed a year where we faced considerable market uncertainty after two years of robust demand. We are positioned well for 2020 and excited about our innovative new products, as well as our long term growth prospects." Fearon added, "Particularly, we are expanding our Changzhou, China, facility in 2020 to accommodate the market growth in China for aerial products."
On the subject of Terex Utilities' results, Fearon continued, "The Terex Utilities team continues to execute well and will transition to their new state-of-the-art manufacturing and engineering facility this summer. This new facility will improve efficiency and increase capacity, which together with new products and service will enable Terex Utilities to continue to grow."
Terex Corp's CEO and chairman John Garrison, said, "Our fourth quarter operating results were generally in-line with our expectations on lower revenue and reflect continued challenging global market conditions for industrial equipment."
He added, "Despite the current industrial equipment market challenges, the longer-term outlook for our businesses remains healthy and points to a promising future for Terex. We are encouraged by the adoption of our equipment in emerging markets and are well-positioned to continue to deliver differentiated solutions to our customers."
Garrison continued, "We expect customers to remain cautious with their capital expenditure decisions in 2020."