Genie SX-180 for Locamond
By Euan Youdale22 October 2020
French rental company Locamod Elévation recently took delivery of a Genie SX-180 telescopic boom lift at its north Paris branch in Domont.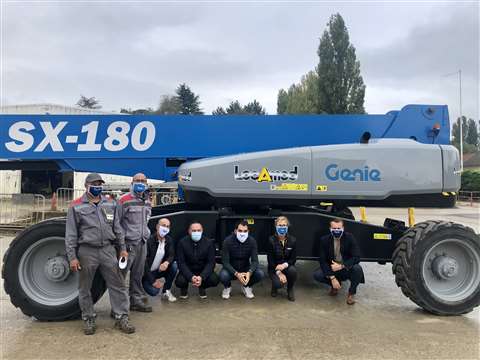 Thibault Jameau, director of the Paris-based company's new branch, explained the reason behind the order, "Our customers want productivity and, with their needs in mind, we want to offer end users the best solutions that allow them to work efficiently and respond to the challenges of tomorrow's large construction projects. These include developments related to the Grand Paris project, the 2024 Paris Olympic Games, and, because our new Genie SX-180 boom is available for rental nationwide, a large number of other jobsites all over France."
Combining a maximum working height of almost 57m (187 ft), a horizontal reach of more than 24m (78 ft 7 in), the ability to work below grade, plus a 3m (9 ft 8 in) jib, the Genie SX-180 has the capability of driving at full height. This means, unlike truck mounted booms, there is no need to stop working to reposition the machine when moving from one work area to the next.
Genie added, "Furthermore, there is no need for special convoys, which saves time and money compared with other machines in its category. Not to mention savings compared with the rental of a truck mounted unit, which entails the extra expense of an additional operator and makes customers less self-reliant."
For every rental of its new Genie SX-180 boom, Locamod Elévation provides a familiarisation session to ensure that operators are at ease with the machine from the first day of use.