Genie Trax to Germany
By Euan Youdale21 October 2022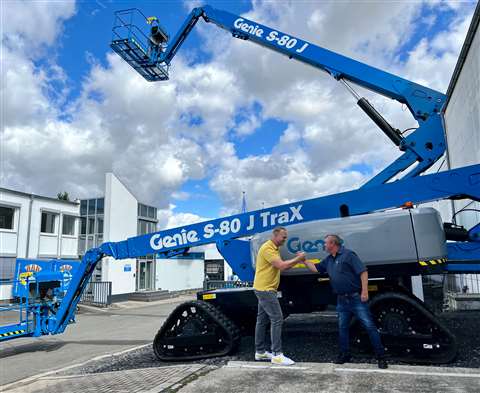 Authorised dealer BSI GmbH (BSI), based in Dortmund, has received one of the first Genie S-80 J TraX boom lifts in Germany.
The Genie S-80 J TraX is the first and only tracked boom in its height class, says the manufacturer, and and is designed to provide optimum terrainability and lower contact pressure for reduced damage when operating on sensitive ground conditions.
Offering an unrestricted platform capacity of 300kg for two operators plus tools, along with high ground clearance to help clear rocks, curbs, trailer break-overs and other daily obstacles, the unit has a 26.51m working height. Sven-Meyland Nielsen, Managing Director of BSI, said, "[The working height combined with the track drive was missing in our portfolio range. This combination of working height and track drive is...a unique and ideal addition to any rental fleet."
The boom's first application is in forestry operations in Northern Germany's Harz mountains, picking fir cones that are needed for their seeds. Good off-road mobility and the TraX system make the S-80 J TraX the ideal machine for the five-month job, which must be done during the winter months."For these special applications, this unique machine is in high demand and, therefore, it can secure excellent rental rates," said Nielsen.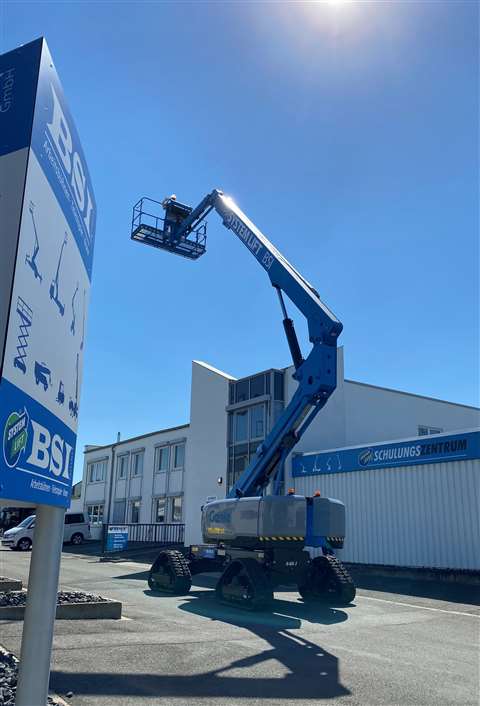 The machine offers a low occupied floor pressure of 257psf (12.32kPa), with the track contact pressure of 108 kPa and the low machine weight of 13,018kg also being an advantage. 
Genie's patented track design, which features 4 independent tracks that swivel vertically up to 20°, ensures a smooth drive on rough ground conditions. The S-80 J TraX is based on the Genie S-80 J boom, which is known for its optimized design and reduced complexity, and is simple and intuitive to operate, with reduced maintenance.
Another advantage is the special construction of the Genie J-series for applications that need to reach over obstacles. Thanks to the optimized design of the articulation of the primary boom with the secondary boom, it offers an innovative feature that is normally not found on a telescopic boom.