Genny Hire upgrading fleet
By Thomas Allen13 August 2019
Genny Hire, which rents generators, lighting towers and associated equipment across North East Scotland, has begun a process to upgrade its fleet of lighting towers, starting with the purchase of ten X-Eco LED sets from Trime UK.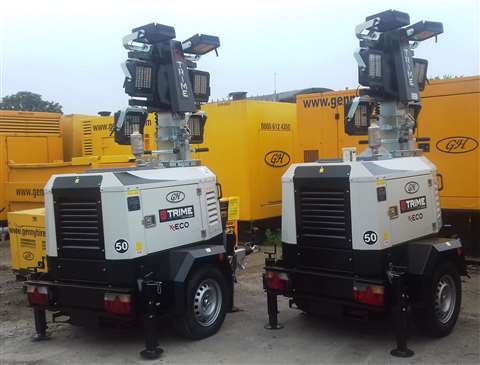 The units have been fitted with Chalwyn valves and spark arrestors to make them suitable for use on refinery and petro-chemical sites, as well as any other environments where 'rig-safe' specifications are a prerequisite.
Lorna Clark from Genny Hire said, "We aim to hire these lighting towers into refinery and petro-chemical sites. This is an area of our business we are seeking to develop, and as the oil and gas sector market becomes busier in Aberdeen again, we will have the correct specification of machines readily available."
Trime's X-Eco LED unit is fitted with an AMOSS safety system, which automatically lowers the mast if the lighting set is moved whilst the mast is still erected. The model also has an emergency stop button, a fully bunded fuel tank, four height adjustable stabilisers and site levels for guidance during deployment.