Gensets: Energy blend
By Thomas Allen28 January 2020
The growing trend towards hybrid power in the genset sector is illustrated by a project currently being undertaken by Aggreko.
The temporary power specialist has signed a five-year contract with United Steel Industries to provide a 24MW gas-battery hybrid power solution for its Fujairah steel mill – the largest of its type in the United Arab Emirates (UAE). Installation began on 2 January, 2020.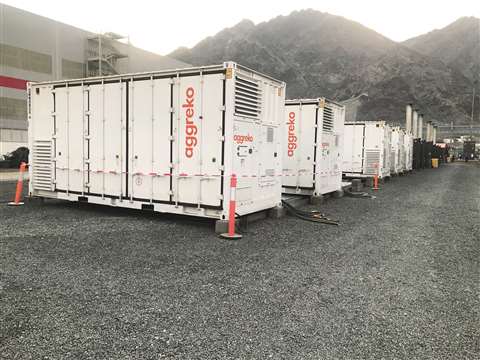 This will be the first time Aggreko has delivered such a solution to an off-grid industrial complex in the Middle East. Speaking about the anticipated challenges, Andrew Boyd, Aggreko's Renewable and Storage Sales Director, says, "Designing and implementing hybrid solutions is a highly complex process. First of all, you need to know your assets and the specific requirements of your customer really well to come up with the most efficient and reliable system layout."
Aggreko has a lot of expertise and experience with solving complex energy challenges, including under high ambient conditions. In fact, the company has been present in the Middle East for 28 years.
19MW of primary power will be delivered by 13 gas generators, and the 5MW battery system will comprise five battery packs providing frequency regulation and backup power.
Boyd says, "Our gas generators and the battery system work as a team for the steel mill. The gas power plant is sole source of power, but whenever there are sudden changes in the load of the mill, for example during the start of large electric motors, the battery system kicks in within milliseconds to add extra peak power."
The batteries will also act as a backup when a generator drops off; without them, there would need to be an extra gas generator constantly running at part load to avoid instability in the plant's off-grid power supply, which would consume excessive amounts of fuel and increase overall carbon emissions.
In fact, Aggreko is expecting to cut fuel costs by 49% and significantly reduce CO2 emissions.
The savings will be driven in part by the use of Aggreko's proprietary monitoring software, Remote Monitoring System, which optimises the battery energy storage system (BESS); "The monitoring software is a critical part of Aggreko's offer and allows us to anticipate issues before they happen as well as enabling accurate decision-making, which maximises fuel efficiency," says Boyd.
When asked why hybrid gas-battery solutions are being used now, he says, "Natural gas has lower costs of energy and lower levels of carbon emissions, making it an ideal fuel for this project. The addition of the battery system to the design brings both efficiency and reliable high-quality power for the customer."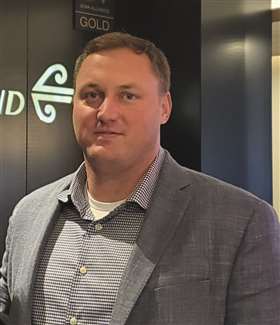 Driving down emissions
The increasing popularity of hybrid energy is helped by the drive to reduce emissions.
Although emissions regulations – such as Tier 4 in the US and Stage V in Europe – require that particulate matter and nitrogen oxide emissions be reduced, they do nothing to cut CO2 emissions, according to Tim Doling, Global Director of Business Development at US-based genset supplier Powr2.
"In fact, many Tier 4 generators, in order to prevent operational issues, have built-in load banks or heating devices that add a parasitic load and thereby burn more fuel and create more emissions," says Doling.
This has led companies to look for cleaner alternatives, such as energy storage and hybrid.
Powr2 offers its hybrid Powrbank, which is essentially a large battery system, to be installed between a diesel generator and the load. It automatically senses the load and turns the generator off during periods of low load and turns it back on to handle peak loads or to recharge the battery.
The introduction of energy storage has also allowed for the harvesting of renewable sources such as solar.
Doling says the benefits include a reduction in fuel usage, lower emissions, fewer service intervals and less downtime. Other benefits for rental companies in particular are the elimination of wet stacking, fewer service calls and visibility of what the load is through Powr2's remote management software.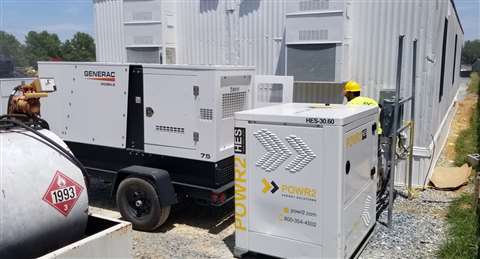 So what is delaying the adoption of hybrid technology?
The main issue for rental companies is the question of how to monetise these products.
Doling gives the four main revenue streams of genset rental as follows: the basic rental rate; additional shift rental for running longer than eight hours; additional service charges for maintenance; and revenue from fuel supply. Using a hybrid power unit can reduce or even eliminate three of these.
"For example, if you rent a generator for $1,500 a month and the client wants to run it 24/7, you can double the rental rate to $3,000. As he is running it 24/7, you will need to service it twice a month at a cost of $250 per time. You will also be selling him fuel at $4 a gallon at a burn rate of 1 gallon an hour. On average, this will allow you to bill $2,688 in fuel. So the total income will be $6,188," says Doling.
In contrast, Doling says, "If you add the Hybrid Powrbank, the generator run time will only be four hours a day instead of 24, so you can only charge single shift. You will now only need to service the generator every two months and the fuel burn will be lower at 2.5 gallons for 4 hours on each 24 hour period. So the new revenue looks like this: $1,500 as the rental rate, plus $125 for servicing, plus $1,120 for fuel, giving a total of $2,745. That's a reduction of $3,443 in revenue from my previous rental."
So the question is whether the rental revenue from a hybrid genset can replace what has been lost.
Policy change
For one thing, the climate change movement is impacting policy and so a growing number of contractors have sustainability targets to meet and they are increasingly demanding hybrid solutions to reduce carbon emissions on construction sites. Further to this, hybrid solutions generate much less noise, which can be important for nighttime work.
Doling also points out that revenue from fuel is often low-margin. Indeed, some rental companies avoid selling fuel altogether.
"In addition, hybrids have a lower total cost of ownership because they are virtually maintenance-free. By using battery cells rated for 10,000 discharges, the asset life can be extended to more than ten years."
Something else to consider is the fact that revenue from servicing is not always profitable. Doling adds, "Skilled service labour is getting harder to find, so any reduction in servicing is an operational benefit."
Finally, when it comes to selling used gensets, hybrids will fetch a higher price because they will have been running for fewer hours.
Italian mobile generator rental company Energy Rental recently worked in collaboration with FPT Industrial, Sices and Riello UPS to create a new hybrid, Stage V compliant 300kVA diesel-powered mobile generator.
The system integrates two high-efficiency UPS (uninterrupted power supply) modules with two high-performance battery systems and FPT Industrial's 8.7 litre Cursor 9 engine, which is compliant with EU Stage V emissions standards due to its use of FPT's trademark HI-SCR2 technology.
The battery systems can be powered from the grid or by renewable sources such as photovoltaic panels.
The genset features a remote monitoring device that allows users to see the unit's location and operating status in real time online.
Alessandro De Berti, Business Development Manager of Milan-based Energy Rental, says, "The idea of this generator originated from the profound desire to guarantee the highest level of innovation and involve a group of leading companies in developing a 100% Italian-built system which, in a world-first, would enable combined and also independent use of a zero-emission UPS and a diesel generator."
Christian Piazzalunga, Sales Operations at control systems manufacturer Sices, says, "The new solutions this system adopts are the outcome of a thorough analysis of the critical concerns for devices of this kind, including prolonged, uninterrupted operation, absence of supervision, noise output and unknown load requirements.
"Brilliant solutions were developed thanks to thousands of hours of co-design work."
Alessandro Zilli, Power Generation Marketing Manager at FPT, said of the 8.7 litre, 300kVA engine, "It produces one of the highest specific powers on the market, so customers enjoy many important benefits with regard to its compact size, with obvious knock-on effects in terms of installation inside the total footprint and canopy of the genset itself."
Energy Rental, based in Vomodrone, north east of Milan, has been renting power for more than 30 years. It specialises in renting to the events and broadcasting sectors.
At Himoinsa's recent European Convention, which brought together the company's distributor network, EMEA Region Director Guillermo Elum stressed the importance of the European market, where Himoinsa has been active for more than 25 years.
"Europe is one of our main markets, it accounts for more than a third of our global turnover; it is a highly specialised market for which we work alongside our distributors in order to be able to offer the maximum quality that the market demands," he says.
Subject to regularly updated emissions and energy efficiency regulations, the European market is constantly presenting new challenges to which Himoinsa must respond.
Himoinsa has been working to meet the growing demand for gensets with environmentally friendly engines managed by smart power controllers.
The company's new S5 gas and diesel gensets incorporate a range of features to make them more technologically advanced and more competitive in the European rental market.
The diesel models are powered by Stage V engines from Yanmar, Scania and FPT, and they use a new aftertreatment system to ensure compliance with EU regulations for non-road mobile machinery (NRMM).
Meanwhile, the gas models, which offer similar characteristics to the diesel machines, are claimed by Himoinsa to be the first gas gensets in the world to include an internal LPG (liquid petroleum gas) tank.
All S5 models have control units that safely and efficiently coordinate with the control units of the new Stage V engines. Himoinsa's controllers incorporate an electrical mechanism that allows the generators to synchronise and work in parallel.
The new units are also manufactured in compliance with the EU's RoHS 2 Directive for the reduction of electronic materials that contain harmful substances.
As an optional extra, the S5 gensets can be managed via Himoinsa's fleet manager kit, which gives access to all the data generated by the control units of gensets that have had a C2Cloud communication device installed in them. With this, vital machine statistics, such as GPS location, CSV reports, fuel levels, and maintenance alerts, can be accessed around the clock through a PC, tablet or mobile device.
Up to 15 gensets can be managed simultaneously, and a maximum of 10 different telephone numbers can be supported with notifications and control permissions.
As parts of Himoinsa's expansion beyond Europe, it has established a strategic alliance with Australian company Generator Power (GP), which sells and rents power solutions across the country and is now a subsidiary of Himoinsa.
Committed expansion
Marco Perillo, APAC (Asia-Pacific) Region Head at Himoinsa, says, "It is a solid commitment of the company's expansion in APAC where Himoinsa has been operating for more than 20 years."
This adds to Himoinsa's established subsidiary in Singapore and production centre in China.
Demand for gensets in the Australian market is driven by the mining industry and the growing hospitality and service sectors.
Although mining has suffered a dip in recent years, a recovery in prices, especially for iron ore, has triggered an upturn, which has in turn positively affected the genset market. According to Himoinsa, the value of the diesel genset market in Australia is expected to reach AU$765.4 million by 2022.
Tetsuya Yamamoto, Managing Director of Himoinsa's parent company Yanmar and Chairman of Yanmar Energy System, says, "Australia values more sophisticated engineering and service capabilities. Himoinsa/Yanmar can help GP strengthen its product line-up, engineering capability to increase its presence in large projects, and to expand into other geographical areas."
Generator Power has locations in Sydney and Brisbane, with plans to open more.
In response to Stage V, Doosan Portable Power has recently introduced the new G20 generator, which complies with the latest EU emissions regulations.
Providing a prime power output of 19kVA, the new G20 model is powered by Yanmar's 4TNV88 18kW diesel engine.
Of particular interest for the rental market, the fuel tank configuration on the G20 generator ensures autonomy of at least 47 hours at 75% of the load. Safe and easy access to operation and maintenance areas has been a priority in the genset's design.
One user-friendly feature is the electrical control and power compartment, which has been designed to meet high safety, reliability and flexibility requirements. All control functions are grouped together on the 4510 Deep Sea Electronics operator control panel, displaying critical operating parameters at a glance.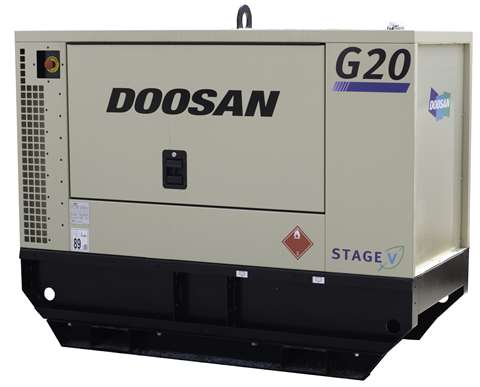 Doosan Portable Power will continue to offer the company's existing generator range running from the G30IIIA to the largest G500IIIA model.
The manufacturer has also introduced a generator option that can eliminate the potential for wet-stacking (when unburned fuel passes into the exhaust system) and the associated damage and performance issues it can cause for diesel generators.
The internally-packaged Intelligent Load Management System (ILMS) option improves machine performance and decreases potential downtime associated with Tier 4 compliant mobile generators in light load and fluctuating demand applications.
The ILMS option automatically adjusts the engine and exhaust temperature with supplemental heat to ensure the generator operates at full capacity regardless of load demands. It avoids the forced downtime caused by load bank testing, which is another method for resolving wet-stacking issues that requires the generator to be connected to an external device.
The system, which requires no operator control or monitoring, is compatible with any voltage output produced by the generator, meeting the needs of a variety of applications with no special setup required.
Reducing fuel costs
Compared with other methods that require supplemental loads to be added, the ILMS technology helps to reduce fuel costs. It is a suitable option for rental applications where load demands are either unknown or incorrectly sized. For applications with fluctuating power demands, the system can instantly respond to ensure full capacity is available in the event of a sudden heavy load demand.
Doosan Portable Power offers the Intelligent Load Management System (ILMS) option across its small to mid-size generator lineup and select large generator models, including the G25, G40, G50, G70, G125, G150, G190, G240 and G325 models.
At the 2020 United Rentals Supplier Show held at the start of January, Cummins debuted its new 500kW mobile genset.
The Tier 4 Final-compliant C500D6RE, which is the latest addition to Cummins' existing Tier 4 Final-certified mobile power product portfolio, is powered by Cummins' Tier 4 Final 15 litre QSX15 engine. The engine meets the emissions standards without the need for a Diesel Particulate Filter (DPF), making for easier servicing, lower emissions and better performance, according to the company.
The model is fitted with a Cummins Stamford alternator, as well as Cummins' PowerCommand 3.3 controller with Masterless Load Demand (MLD) technology. This allows for units of different sizes to parallel together and adjust the required power output in response to variable load demands, maximising efficiency.
While the new generator set can operate in high ambient temperatures, it is also available with a cold weather package that allows power to be delivered reliably in low ambient environments. The generator's enclosure is capable of withstanding extreme weather conditions, while a full sound attenuation package minimises the generator's noise levels.
John Gibbons, General Manager of Cummins North America Mobile Power Business, says, "Alongside the newly released 100kW and 70kW models, Cummins is now able to offer a mobile power range from 70 to 500 kW in strategic power nodes."
Following the launch of the SMC Genpac 6 and 10 in 2019, Morris Site Machinery has added six additional models to its SMC Genpac range, broadening the offering to between 6 and 200kVA.
The super-silent SMC Genpac 6 is a durable single-phase generator with a run time of 20 hours. Weighing in at 226kg when fully fuelled, it can be manoeuvred by a single operator with its wheelbarrow base.
The compact SMC Genpac 10 was developed to meet demand for a more efficient, smaller machine. The robust single-phase generator has a 30 litre fuel tank that can run for up to 15 hours at 75% load and an easy access canopy. Its Kubota water-cooled diesel engine was said to be recognised for its reliability as well as its quieter running at 1,500rpm.
Meanwhile, Inmesol has launched its new C-Genset range of generators, which have cylindrical canopies to reduce the volume and weight of the gensets.
In addition, material consumption in the manufacture of the new canopy is reduced in weight by 20% and in volume by 40%.
The new canopy maintains all the services of a conventional genset of the same power.
The 50Hz range comprises the CCK-033 with or without ats (automatic transfer switch), the CCK-044 with or without ats, and the CCD-066 with or without ats.
Meanwhile, the 60Hz range comprises the CCK-041 (480/277V), CCK-041 (220/127V), CCD-070 (220/127V), and CCD-070 (480/277V).
The new models are available globally.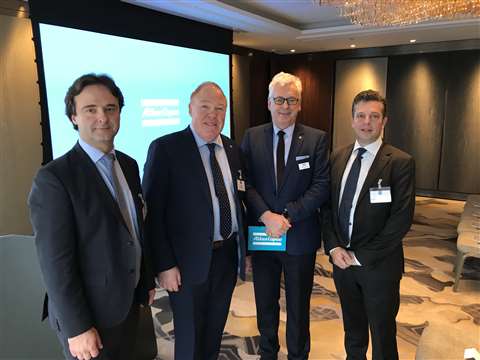 Atlas Copco weathering Brexit
Atlas Copco Power Technique UK has seen a levelling off of demand from UK rental companies in recent months, according to Kevin Prince, General Manager of the division.
At an event celebrating Atlas Copco's 100-year anniversary of operating in the UK, he told IRN that Brexit uncertainty was largely to blame for a slowdown in the UK construction sector.
"This has had a knock-on effect for rental companies, who have seen a drop in equipment utilisation rates and are therefore holding off on investing in new equipment," Prince said.
It is hoped that Brexit will be over and done with before long, so that the UK can move on.
Another challenge highlighted by Prince was the phasing in of EU Stage V emissions regulations.
Atlas Copco has until mid-2020 to buy non-compliant engines, and until the end of 2020 to sell equipment fitted with these engines. So the company must decide how many non-compliant engines to invest in.
At present, demand from UK rental companies for Stage V compliant equipment is relatively low since there are few low-emissions zones. This is expected to change though.
"As emissions zones are introduced in other major cities in the UK, contractors will be obliged by legislation to use Stage V machines, meaning that rental companies will want to supply them," said Prince.
At the centenary event, Atlas Copco's CEO Mats Rahmstr¨om spoke of major trends in the industry – not just in the UK but across the world.
Among them was of course digitalisation. The manufacturer is increasingly adopting smart technology that allows data to be collected on its equipment, with 130,000 of its compressors now connected.
This creates the potential to improve operational efficiency and provide predictive maintenance. And the roll-out of 5G (fifth generation mobile networks) will broaden the scope of such applications.
The topic of the skills shortage was also addressed, with Alex Bongaerts, Vice President Holding and Finance Director Atlas Copco Airpower, speaking about the company's 'Year in the Industry' initiative, which offers university students the opportunity to spend a year working at Atlas Copco during their studies.
Atlas Copco, founded in 1873, entered the UK market in 1919. It now generates revenues of around £1 billion and employs 2,500 people in the UK.
APR Energy acquired by Seaspan
Global power rental company APR Energy is being acquired for US$750 million by container ship operator Seaspan Corp.
The deal values the US-based energy company at $425 million and incorporates $325 million of APR debt.
APR, which ranked 53rd in this year's IRN100 and has a fleet of gas turbines and other power generation equipment, is being purchased in an all-stock transaction valued at $11.10 per share.
Seaspan, which runs a fleet of 112 container ships and reported 2018 revenues of US$1.1 billion, has created a new holding company called Atlas Corp, which will become the parent company of Seaspan and APR.
Chuck Ferry, CEO of APR, said, "APR is excited to be joining the Atlas team. We know this will provide a significant opportunity to remain the best-in-class for delivering fast power while expanding our efforts into renewable, alternative fuels, and other longer-term power projects."
With this acquisition, Atlas intends to capitalise on what it says are 'favourable market conditions' for fast-track power generation. The company says demand for power is growing in emerging markets, there is a transition to non-baseload power sources, and natural disasters are increasingly causing power grid disruption.
David Sokol, Chairman of Seaspan's Board, said the transaction would be "transformative" for the business; "We are bringing together two leading, integrated platforms, in two industries in which we have long-term confidence – maritime and energy.
"APR has built a compelling business with contracted cash flows and a focused management team, led by their talented CEO Charles 'Chuck' Ferry. The addition of APR to Atlas will diversify our cash flows and expand our asset portfolio. We now have significant runway to deploy capital into two attractive businesses where scale and operational transparency can generate long-term shareholder value through cycles."
The acquisition is expected to be completed in the first quarter of 2020.