Gerken on call with Ruthmann T 720
By Euan Youdale23 October 2013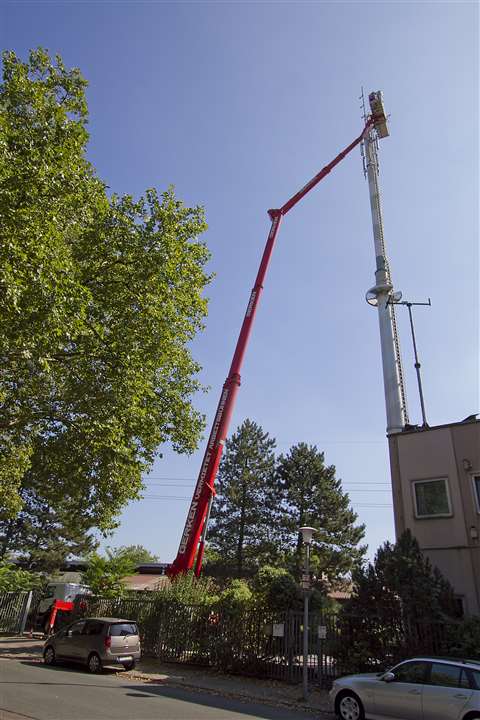 German rental giant Gerken has been using its new 72 m Ruthmann Steiger T 720 truck mount to help upgrade the country's mobile phone mast network.
The standard UMTS system has been supplying Germany's mobile Internet for over 10 years and is slowly reaching the limits of its capacity.
As demand for this technology increases, companies are installing the new and not yet widespread LTE (Longer Term Evolution) system. To accomplish this all existing masts must be upgraded accordingly.
The LTE mast upgraded by Gerken's T 720 is about 48 m tall and located in the middle of a residential area. The mast has a railway track on one side and a house on the other. "An extremely high degree of versatility is required for this assignment," says Andreas Schmitz of Gerken.
Three days was allowed for the mast conversion. First, the old UMTS antennas had to be removed and replaced with new ones. Then, a new lightning rod and new LTE antennas were installed.
The large and heavy steel parts for the antenna and mounts for the lightning rod were lifted in the 600 kg capacity working cage of the T 720 - the interior of the working cage is 3.7 m² fully telescoped.
Andreas Schmitz, Gerken operator of the T 720 said a great deal of co-ordination was required. "The mast is out of service for modifications but the technicians must still be brought as close as possible to the desired location. In assignments such as these, it is important that the controls of the work platform are easy to use and precise."
Gerken is one of the largest rental companies for truck-mounted aerial work platforms in Germany. The company operates across Europe and will be celebrating its 50th anniversary in the autumn of 2013.
The range of Height Performance Steigers includes the T 720, T 460, T 540 and T 380 models; the latter having been launched in the third quarter of this year. So far more than 70 units have been sold worldwide, said the company. The fifth machine in the series, the 63 m T 630, is scheduled to make its debut in the fourth quarter of 2013.