German contractor boosts upward reach with Volvo CE
A custom-made quick-change boom system on its Volvo Construction Equipment (Volvo CE) EC380E HR is helping German demolition and earthworks specialist Austen GmbH on demolition projects with a range of reach requirements.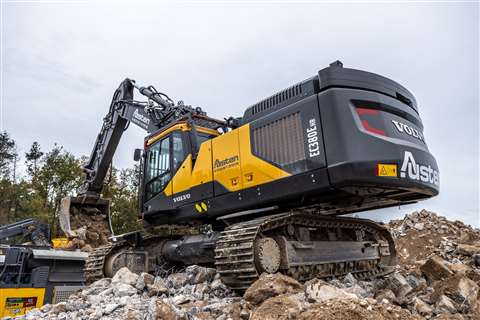 With an operating weight of just over 50 t, the Volvo EC380E HR is a vital piece of equipment for Austen, a family-run business now in its third generation.
Projects include the Markt Cadolzburg site in the city of Fürth in the southern German state of Bavaria, which covers around 113,000 sq m (1.2 million sq ft), and where around 10,000 t of concrete have already been reprocessed.
"It was clear that sooner or later we would need more upward reach," says business manager Dominik Austen.
"But before we bought one, we wanted to see a large machine for ourselves."
With no EC380E HR in the area, Stefan Kirsch, sales manager of equipment dealer Robert Aebi four directors from Austen 700 km (435 miles) north to Rotterdam in the Netherlands.
While the trip proved worthwhile in terms of the machine, a quick-change system didn't yet exist for excavators of this size.
"You can't get something like that off the shelf, you have to build it," said Stefan Kirsch.
"We had to think about everything down to the smallest detail. Where should the quick-change couplings be placed? How should they be attached?"
Within a year, a team from the two companies had developed the first Volvo EC380E HR with an oil-free quick-change boom system.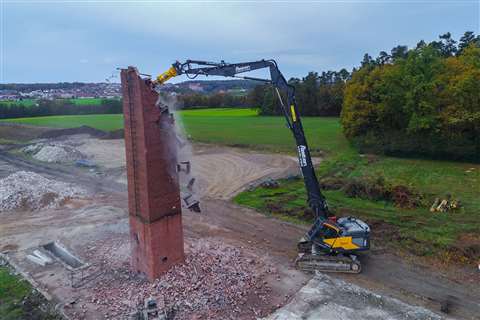 At the customer's request, the machine also received a protective coating. And a custom-made big rock spoon was also designed and developed by Dominik Austen in collaboration with the spoon builder to enable them to rip out foundations even more effectively.
Thanks to the modifications that were made to its EC380E HR, Austen can switch between booms in just 30 minutes, which it describes as a huge benefit for day-to-day operations.
With the long front equipment, the excavator can reach a maximum working height of around 24 m (78 ft).
For work at lower elevations or on foundations, Austen switches to its earthmoving boom.