Gertzen lifts the North Star
By Laura Hatton14 May 2015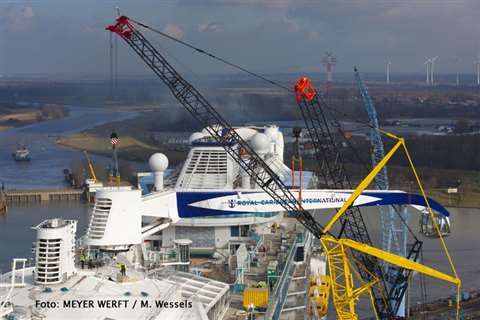 Crane service provider Gertzen, based in Germany, helped install the funnel casing and viewing gondola on Germany's largest ever cruise ship, the Anthem of the Seas.
To install them the 350 metre-long Anthem of the Seas had to be moved out of the 504 m-long and 75 m tall Hall 2 covered dock at the Papenburger Meyer shipyard.
For the lifts Gertzen used two 750 tonne capacity Liebherr LTM 1750-9.1 mobile cranes from its own fleet and one LTM 1750-9.1 hired from Thömen.
For the lift a cross beam was secured to the funnel casing before it was lifted from the ground. The 42 tonne casing casing was 26 m long and 18 m high. At a radius of 34 m it was lifted over the cruise ship and placed over the funnel from a hook height of 74 m.
To lift the 65 tonne largest component of the 110 tonne North Star viewing gondola the LTM 1750-9.1 was fitted with telescopic guying to increase its load capacity. The North Star is made up of a crane arm and a gondola which can be hoisted to a height of 90 m above sea level.