Getting to grips
By Lindsay Gale04 March 2009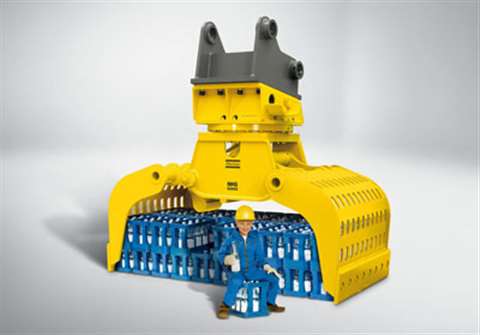 Atlas Copco has extended its MultiGrapple range with the addition of six models, four of which cover the smaller end of the scale, for carriers weighing from 0.7 to 8 tonnes. The MG 100 has a service weight of 90 kg (198 lb) and is for carriers up to 1 tone, the 175 kg (385 lb) MG 200 is for 1-3 tonne machines, the 290 kg (638 lb) MG 300 is for use with 2-5tonne units and the 450 kg (990 lb) MG 400 is for 4-8 tonne units.
Two new larger units have also been added. The 2,100 kg (4,620 lb) MG 2100 fills the gap between the existing MG 1800 and MG 2700 and is intended for use on 25-35 tonne carriers. The final addition is the 5,300 kg (11,660 lb) MG 5000 for use with 50-80 tonne machines, rounding off the high end of the product range.
Atlas Copco says that quality steel has been used in their fabrication and hydraulic cylinders and components are protected against damage. Blades are reversible and are also easy to replace, and the grapples feature elongated slots to prevent blockages.
Atlas Copco says that because of their robust design and manufacture, its MultiGrapples can be used for light demolition duties, including brickwork and wooden structures, in addition to more normal sorting and loading tasks.