Getting vertical
By Lindsey Anderson18 July 2017
Vertical mast lifts are well-suited for a wide range of applications including stock-picking, inventory management, general maintenance and light-duty contractor applications. Updates to the ANSI and CSA standards will result in a global standards commonality, driving innovation in systems that have historically been only regional requirements. Users can expect load sensing systems in electric scissors and vertical mast lifts, along with slight changes to capacity, occupancy or platform height ratings. Aerial equipment manufacturers are coupling these standards-driven changes with new product and option developments to meet productivity and performance specifications.
Snorkel debuted two new units in the vertical mast family this year. The company debuted the electric drive, 12-foot, self-propelled telescopic mast lift, TM12E and a larger 16-foot version.
The Snorkel TM16E can lift up to 500 pounds to a platform height of up to 16 feet and weighs in at 2,360 pounds. The electric drive system delivers longer duty cycles, thanks to drawing up to 50 percent less amps than the hydraulic drive mast lifts. The new electric drive system brings the additional benefit of a zero-inch inside turning radius, making it ideal for working in confined spaces, such as in stock-picking or retail applications.
The TM16E also features an electric braking system, which minimizes the risk of hydraulic hose leaks because of its containment within a fully sealed unit. The TM16E showcases a number of Snorkel features, including an upper control box with a power to platform outlet as standard, consistent with Snorkel's new electric scissor lift family and TM12E model. The lift also features saloon-door style entry gates as standard, along with a built-in step in the chassis to ease access in and out of the stowed platform.
Snorkel is focused on designing aerial lifts which are simple to use and simple to maintain, the company says. The new TM16E features swing-out service trays on both sides of the lift, providing easy access to the batteries and hydraulic components. All electronic components are housed in a separate compartment, at the rear of the chassis, underneath the new step. This all-steel compartment is designed to provide additional protection to the electronics, while still providing quick and easy access, using just two bolts.
"Lower controls are positioned in the rear of the chassis, making it easy to access the controls, even when machines are parked side-by-side or in tight spaces," the company says. "The control panel is recessed to minimize damage, and the battery charger and power to platform plugs are fitted flush into the rear chassis. This helps to prevent damage, but also eliminates the need for a 'pigtail' style charging lead, which are often lost or damaged on jobsites."
Common with many Snorkel lifts, the TM16E features Snorkel's on-board diagnostic system with a visual display to ease the troubleshooting process. This system is fully integrated into the machine and does not require the use of any additional external diagnostic devices.
The Snorkel TM12E is now in production in Snorkel's newest manufacturing facility in Henderson, Nevada and is available to order in North America. The TM16E will be available to order in Fall 2017.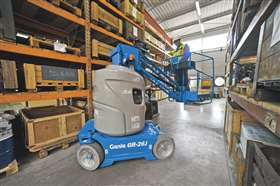 Another unit with zero-inside turning radius is the Genie Runabout. The Runabout features proportional lift and drive controls, as well as a small footprint, and, according to the company, is a favorite among operators with jobs requiring access through narrow hallways, elevators and small doorways. The Genie Runabout Contractor, featuring a tube-in-tube telescoping mast and steel platform, provides enhanced durability in rougher construction environments.
"We will continue to see further growth of the vertical mast lift market as it reaches into additional industrial and institutional applications," says Michael Flanagan, Genie product manager, Terex AWP. "Vertical mast lifts such as the Genie Runabout (GR), Runabout Contractor (GRC) and QuickStock (QS), are well-suited for tight access applications.
"The footprint of Genie vertical mast lifts is in some cases half that of comparable platform height scissor lifts, and the ease of maneuverability and low weight can make the difference between an aerial lift and a ladder. Jobs requiring lower capacities and fewer occupants that scissor lifts will typically favor vertical mast lifts."
New to the scene
Haulotte's latest is the 20-foot mast lift, the Star 20, with direct AC electric drive, roll-out deck and multi stage cylinder lift. Certified for both indoor and outdoor work, the new machine has a larger heavier four section mast.
The unit features a four-stage cylinder mast with no chain or cable; electric drive with brushless AC motors, on-board diagnostics and an intuitive control box with battery charge indicator in the platform.
JLG's latest is the 20MVL which "offers superior maneuverability thanks to its zero turn radius, providing greater access to areas where space is limited," the company says. "Ideal for a variety of applications including factories, retail centers, airports and public buildings, the 20MVL keeps end-users on the job longer, increasing productivity."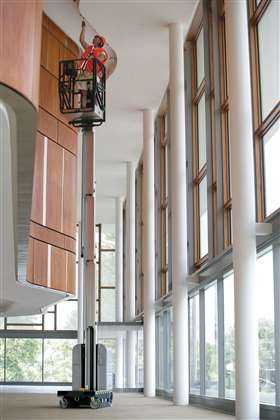 A direct electric drive delivers power while maintenance-free long cycle batteries hold their charge. The built-in, automatic charger has a five-hour recharge capability. It features a rigid anodized mast for increased operator comfort and stability, and three platform options with exclusive one-minute quick-change mountings that enables workers to complete maintenance jobs efficiently. The 20MVL features a platform height of 19 feet, 1 inch and a machine width of 2 feet, 6 inches.
Positive markets
"The overall vertical mast markets for North America and Europe have grown substantially over the past three years and have a positive outlook for both regions moving forward," says Kristopher Schmidt, product manager, Skyjack "We're seeing more jobs where these machines are being utilized whereas ladders used to be the norm for inside work and general maintenance type jobs. One of the large drivers in our industry has always been safety and having a person being tied off and/or within the constraints of a platform rather than using tradition methods to working at height has made these machines the go-to product."
Skyjack offers the SJ12/16 units in the vertical mast arena.
The company recently partnered with Ontario-based Ontario Rental Supply (ORS) to donate an aerial work platform to the Aquatarium, a nonprofit based in Brockville, Ontario, Canada.
The Aquatarium, an experiential learning center featuring fish and other aquatic animals and plants set to open in the fall of 2015, received the SJ16 vertical mast lift as part of Skyjack's 30 FOR 30 PARTNERS campaign, which celebrates the company's 30th business anniversary.
"The SJ16 was ideal for helping at the Aquatarium because of its size," says Bill Rogerson, executive director, the Aquatarium. "We are using it to install light fixtures, wiring and audio visual equipment. Once we open, it'll be used to help maintain those technologies and a lot of it is mounted at 19 feet high, so it will come in very handy."
One of the most interesting projects the SJ16 helped with was mounting a Beluga whale fossil at 19 feet in the Creation area, which highlights how the nearby St. Lawrence River has saltwater origins. More than 10,000 years ago, Beluga whale could be found just 50 miles away from Brockville's shores, according to Rogerson.
"From my perspective Skyjacks are like the Kleenex of the aerial work platform world. When you want a tissue you ask for a Kleenex, when you need scissor lifts, you ask for Skyjack, so it was a pretty easy choice for us to lease one in the past," Rogerson says. "Now we are grateful to own one because we'll have flexibility to use the SJ16 whenever and wherever we want. Plus, I'm sure it will result in cost savings in the future."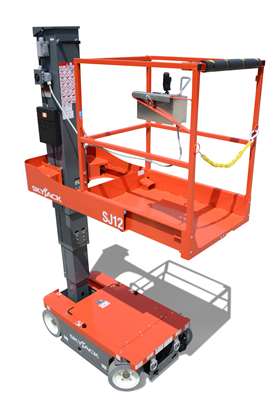 The vertical mast lift has a working height of 21 feet, 7 inches and maximum weight capacity of 500 pounds. It also offers a lightweight design that provides operators with low ground pressure and floor loading, a zero-degree inside turning radius and a traversing platform for added reach.
"We have a busy exhibit space and having the SJ16, which is easy to maneuver, and the fact that we can cantilever the platform over some areas is extra helpful," Rogerson says. "Another huge bonus is that we can fit it in the elevator. While the bulk of the installations are on the third floor, we'll need to use it on the first floor as well."
The Aquatarium, which aims to inspire curiosity in the 1,000 islands of the Ontario region, expects to attract between 40,000 to 50,000 visitors a year.
ORS matched Skyjack's contribution and helped deliver the SJ16 to the Aquatarium. Headquartered in Ottawa, ORS also has a branch in Brockville. The company has over 100 years of combined construction equipment rental and business management experience.
"Like Skyjack, we believe in giving back to the communities that have supported us," says Pat Kelahear, general manager at ORS Rents. "We are happy to be a partner with Skyjack on such a good cause and look forward to the Aquatarium opening in Brockville in fall.