GGR distributes Faresin electric telehandler
By Euan Youdale07 February 2020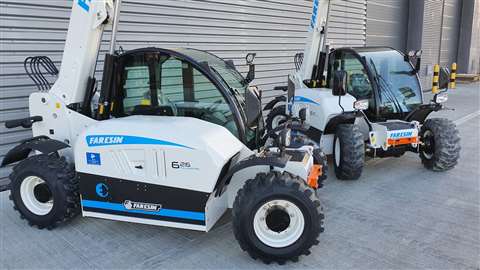 GGR Group has become the exclusive UK dealer for the Faresin 6.26 full electric telehandler.
The new Eco Telehandler is designed and manufactured by Italy-based Faresin Industries and GGR Group recently took delivery of the first three models in the UK.
Featuring a lifting capacity of 2.6 tonnes, it is powered by a lithium battery. The standard 300Ah battery has a life of up to 6 hours and a recharge time of 3 hours, 45 minutes, using the standard external three-phase charger. This can be reduced to 1.5 hours by using the optional external fast charger.
Graeme Riley, CEO of GGR Group commented, "We are pleased to be the first to bring yet another exclusive product to the UK market. The introduction of this product is a very exciting prospect for the GGR team. Not only does it allow us to extend our expertise to the wider materials handling market, but it gives us a new avenue for growth".
Daniel Ezzatvar, marketing director, commented, "Over the next few months we are offering the opportunity to demo the new machines at one of our sites." In support of this, the copmany has created dedicated marketing materials for the product and has a new website electrictelehandler.co.uk