GGR Group expansion
By Alex Dahm18 September 2018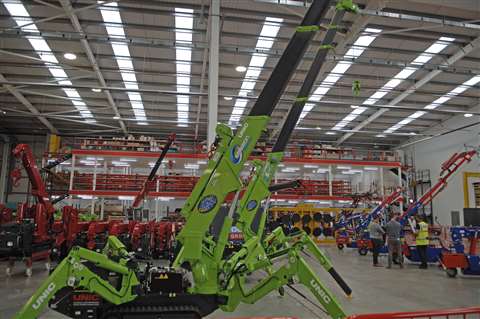 Mini crane and materials handling equipment specialist GGR Group has opened a newly constructed facility in the UK. A grand opening was held on 14 September 2018. Centrally located in England, north west of London, the new 102,000 square foot premises consolidates the company's operations to better serve the UK, mainland Europe, neighbouring regions and the Middle East where GGR operates.
Commenting on the new facility Graeme Riley, GGR Group chief executive, said, "As market leaders in the lifting industry it was important to us to build a facility that can support our future growth plans, whilst creating an environment that is attractive both to staff and visitors alike. With everything we do we set out to achieve the wow factor and our new premises go a long way in helping us to convey that message. We have created a Formula One or aviation-level environment for the construction industry."
The main building is split into two halves, one for the equipment rental side of the business and the other for the new machines, including loading, assembly, inspection and demonstration areas, plus a large store of spare parts.
At the open day visitors could tour the facility and there were product demonstrations. New machines on show included the 500 kg capacity AC500 industrial assembly crane, the Eco Unic mini crane on crawler tracks and the TC1 tracked carrier.
Cutting the ribbon at the GGR Group grand opening in September 2018: Left to right, Graeme Riley, GGR Group chief executive, Scott Ainsworth, GGR Group technical support director, Minoru Nalatagowa, CEO of Unic Furukawa, Gill Riley, GGR Group managing director