Giant floating crane for wind farm work
By Christian Shelton18 December 2017
One of the world's largest floating cranes, Asian Hercules III, has arrived in Peterhead Port, in the north east of the UK, ahead of construction work on Swedish power company Vattenfall's European Offshore Wind Deployment Centre (EOWDC), also known as the Aberdeen Offshore Wind Farm. The wind farm is in Aberdeen Bay, around 3 kilometres off the east coast of Aberdeenshire, Scotland.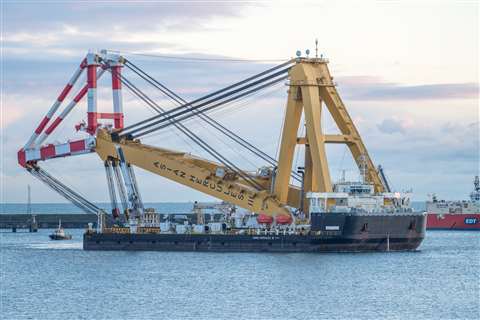 The 25,000 tonne Asian Hercules III will be used to lift and install 11 steel jacket foundations. The foundations weigh 1,800 tonnes and are 77 metres high. The floating crane has a lifting capacity of up to 5,000 tonnes and a hook height of at least 120 metres. It will be used to transport the jacket structures from Peterhead Port to the wind farm site and lower them on to the seabed in Aberdeen Bay.
Adam Ezzamel, EOWDC project director for Vattenfall, which is developing the facility, said, "The size of the Asian Hercules III offers a glimpse of the scale of the engineering behind the EOWDC… By testing and demonstrating pioneering technology, the EOWDC will support the growth of a low-cost, fossil-free offshore wind industry which is set to be the backbone of the UK power sector.
"Everyone at Peterhead involved in this project has worked extremely hard to ensure the operation runs as safely and efficiently as possible. This is a complex marine operation in which all parties will, of necessity contribute their considerable skills to bring to fruition. We are presently in the final stages of preparations prior to hosting the first barge carrying foundations."