Giant Huisman crane for Boskalis
By Alex Dahm01 November 2019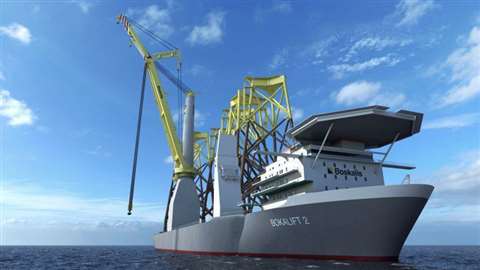 Dutch crane and offshore engineering specialist Huisman will supply a 4,000 tonne crane for Royal Boskalis Westminster N.V.
The offshore mast crane will be installed on the Boskalis vessel Bokalift 2, currently under construction. It follows Huisman's delivery of a 3,000 tonne OMC for Bokalift 1 in 2017.
The 4,000 tonne capacity is available up to 100 metres above the deck which allows wind turbine jackets to be lifted off it. Adding the fly jib allows smaller components to be lifted 125 metres above the deck. Monopiles and other long loads can be upended from horizontal to vertical.
Bokalift 2's first project will be installing jackets for the Taiwanese Changfang and Xidao offshore wind farm, a project recently awarded to Boskalis.
Huisman designed its OMC to have a small footprint and no tailswing, maximising space on deck for payload. Its capability will future proof it for installing current and future generation offshore wind turbine foundations. In addition it should find work in offshore oil and gas, decommissioning and salvage.