GIS show reports record numbers
By Euan Youdale30 October 2019
The seventh edition of the GIS show, which took place in Piacenza, Italy, in early October, saw record visitor and exhibitor numbers.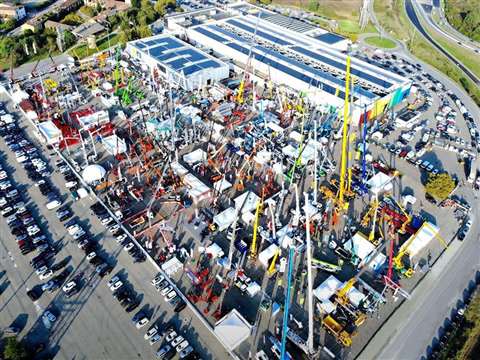 More than 11,000 visitors came from Italy, while there was a major increase of industry professionals from around the world, said show organisers. The number of exhibitors exceeded 400 this year, compared to 359 at the last edition in 2017, a growth of 20%.
There were numerous associations connected to the show, offering a range of conferences and workshops on training, safety and technical updates, among others. Apart from these, there were three gala award dinners, with around 800 attendees: the Italplatform - Italian Access Platform Awards, the ITALA - Italian Terminal and Logistic Awards, and the ILTA - Italian Lifting & Transportation Awards.
"With enthusiastic comments from most of our 428 exhibitors, we can say that the Piacenza exhibition was a great success," said Fabio Potestà, director of GIS organiser Mediapoint & Communications, "for which we must also thank the ministries, the institutional bodies and associations that supported us, and the exhibitors who believed in the innovative format of our event.
"A special thanks also to the Italian Army that participated with a selection of lifting, handling and specialized transport vehicles used by the 2nd Regiment of the Genio Pontieri of Piacenza and by the 2nd Alpine Regiment of Cuneo."
The growing international presence at GIS was also demonstrated by ESTA, the leading European association for the abnormal road transport and mobile crane rental industry, which held its two-day autumn meeting at the Piacenza Expo headquarters.
Potestà added, "With our show we demonstrated that it is also possible to organise in Italy niche events of international importance, offering an ideal showcase for national and international companies that operate in our country."