Global excavator report New analysis is a first for Off-Highway Research
In September, Off-Highway Research will publish its first ever report on the global excavator market. At more than 300 pages, this document will be the most in-depth study ever published on the industry, and will feature a global overview and individual chapters on key markets, covering sales overall and by type and weight class, production (including component sourcing), imports and exports, the active population of machines, market shares and customer groups, and a five-year forecast. Additional sections will include manufacturer profiles, contact details and details of models available.
Last year close to 375,000 crawler, mini and wheeled excavators will be sold around the world with a total value of US$ 36 billion. As impressive as those figures are, the industry was in a trough in 2015 and 2016. As recently as 2012 the global market stood at 417,000 excavators of all types, with a value of US$ 46.5 billion – 12% bigger in unit terms and 29% larger in US Dollar value.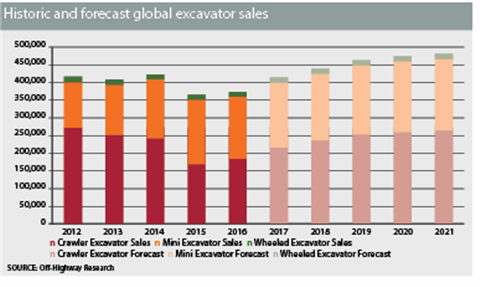 Within the excavator segment, crawler machines are the most important product. In volume terms, about half the excavators sold around the world are crawler machines with an operating weight of 6 tonnes or more, but in value terms they account for 72 per cent of the excavator market – US$ 26 billion last year.
The sharp decline in overall excavator sales over the last five years has been due to the slump in demand for crawler machines. Mini excavator sales tend to be more important in developed countries – Europe, Japan and North America accounted for 70% of demand last year – but are less attractive in emerging economies where they compete with cheap manual labour.
Wheeled excavators meanwhile have a very patchy appeal and represent only 4% of global excavator demand. Europe accounts for more than 60% of this, and within the region wheeled excavators are only truly popular in a handful of markets. Germany is by far the biggest, but they also sell in reasonable numbers in France, Sweden and the Netherlands.
The preference for different types of excavator in various parts of the world means that the relative importance of different regions varies a lot depending on whether the volume of unit sales or their value is being considered – essentially mini excavators sell in high numbers but are much less expensive than crawler or wheeled machines. In volume terms, Europe is the largest regional excavator market in the world, while North America has the greatest value, for example.
Brighter future
Off-Highway Research now expects the global excavator industry to enter a recovery phase. Sales this year are expected to exceed 415,000 units – an 11% increase on 2016. The global value of excavator sales meanwhile is expected to move above US$ 40 billion once again. The forecast is for sales to start approaching the 500,000-unit mark by 2021, with the sector's value moving close to US$ 50 billion. This year China, India and North America look to be the more buoyant excavator markets. Europe and Japan are growing about in line with the global average, while it is the emerging markets outside China and India where demand is depressed.
Choices, choices
The size of the excavator market means it is highly competitive. Off-Highway Research counts more than 60 suppliers of crawler, mini and wheeled machines around the world. The substantial number of manufacturers means that no single producer has a dominant global position. Across all three machine types, there are only two manufacturers with a double-digit global market share, and no manufacturer holds a top five global market position in all three machine types.
About Off-Highway Research
Off-Highway Research is the world's leading provider of market intelligence and forecasts for the global construction equipment industry. With offices in the UK, China, India, the USA and Japan it offers unrivalled market insights, helping its clients to set their global strategies and plan & invest for profitable growth.
For more information, please visit www.offhighway.co.uk