Global equipment sales surge
By Andy Brown03 April 2018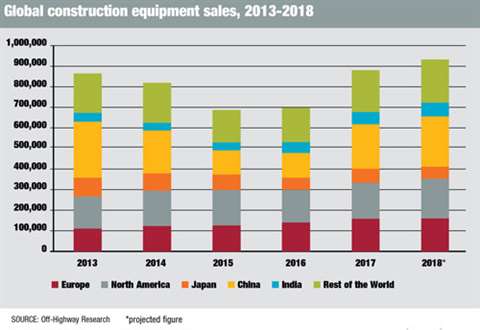 Global construction equipment sales rose 28% last year to almost 895,000 units, according to specialist forecasting and market research company Off-Highway Research. This was the highest the market has been since 2012, and was a marked turnaround from 2015 and 2016 when worldwide equipment sales bottomed-out at 700,000 units.
China was a key driver of global growth last year, where equipment sales rose a remarkable 82%. This took demand back above 200,000 units for the first time since 2014, and re-established China as the largest equipment market in the world in unit terms, ahead of the US.
The new-found buoyancy in China is linked to the 'One Belt One Road' infrastructure projects which were launched by the government towards the end of 2016. This has driven across-the-board rises in construction equipment sales, particularly larger earthmoving machines.
Elsewhere in Asia, robust growth continued to be the order of the day in India last year, with a 14% increase in construction equipment sales following on from the 36% surge seen in 2016. This took the market size to a new record level of 60,089 units, surpassing the previous high which had been seen in 2011.
Meanwhile in Japan equipment sales were also up 14%, thanks to a sharp rise in the crawler excavator segment.
Sales in Western Europe rose 13% last year to 160,562 units, which took demand to its highest since the global financial crisis. Significantly, all the individual countries in the region experienced increased demand last year. Among the highlights were Sweden and Norway reaching new records, while sales of equipment in Germany were their highest since the reunification boom of the early 1990s.
After a year of uncertainty in the run-up to the November 2016 US presidential election, the North American construction equipment market returned to growth last year. Sales were up 11% to 173,188 units, thanks to accelerating economic growth.
Off-Highway Research expects global equipment sales to grow another 6% this year, with the most significant growth being seen in North America, India and China. The European market is expected to level-off, while a fall in sales is expected in Japan.
For more information, visit www.offhighway.co.uk.