Global vertical masts
By Euan Youdale02 October 2018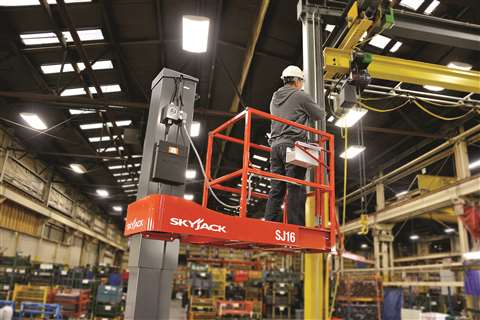 Vertical masts are becoming more popular, not in the sense that they are taking market share from other powered access equipment, rather they are finding greater acceptance in their core areas of work.
In many cases vertical masts fall into the low level access category and are therefore garnering greater interest, as is low level access generally, as it replaces ladders and mobile scaffolding towers, in some areas.
They are also seeing greater accceptance in the construction sector, as well as expanding in their core industrial applications. There have been other rumblings too, hinting at growth and increased competition in the sector. We often hear about competition coming from China for scissors and booms, well, the same is true for mast lifts.
Eastman Heavy Machinery (EHM) is a US-based company, with its manufacturing facilities in China. The company has just signed an exclusive distribution agreement with the Netherlands-based Fontexx Cranes & Access. Under the agreement Fontexx will provide sales and after sales service for EHM's electric and hybrid-powered vertical masts and electric scissors in all European countries except France and Turkey. It will also permit Fontexx to rent the units. Fontexx has specialised in access and tower crane rental and sales for more than 30 years and the company said it decided to work with EHM, following more than three years of negotiation and product trials.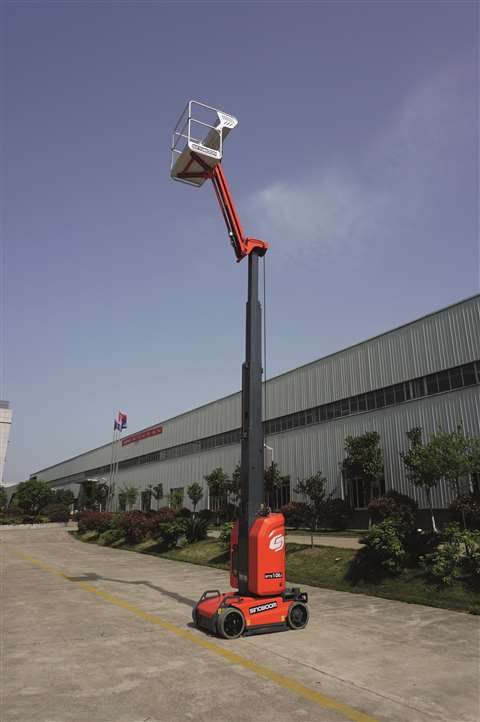 Another manufacturer from China, Sinoboom, has launched its first vertical mast lift, the 10.3m working height 10PJ. Next up from the manufacturer will be a 3.8m platform height single-mast lift. The benefits for both, says the manufacturer is their compact design, easy operation and transportation, as well as low maintenance.
While the company is expanding into all mast lift product areas, June Zhu, from Hunan Sinoboom Heavy Industry, has a warning for the sector, "Vertical masts have to move in another direction, because there now more compact scissors in the market to replace them, due to the high cost of vertical masts. Higher vertical masts, with longer outreach capability and easy operation for indoor and outdoor use will lead to a new demand."
Compact benefit
Kristopher Schmidt, product manager at Skyjack, on the other hand, believes the compact footprint and superior manoeuvrability of mast lifts is their fundamental benefit. "Due to their stature and lightweight these vertical masts can also go into elevators, which adds further benefit to multi-level job sites.
"Vertical masts have always had an advantage when it comes to working in enclosed spaces compared to traditional scissor lifts and other comparable products."
Skyjack says its masts are the only ones on the market with a traversing platform, which enables operators to get up and over.
Skyjack offers two vertical mast lifts with working heights ranging from 5.65m to 6.75m. The zero-emission compact machines offer low floor loading. Driveable at full height the SJ12 and SJ16 provide a zero inside turning radius for maximum manoeuvrability, 30% gradeability, and rated load lift times from 16 to 20 seconds, respectively. They uniquely keep the mast at the rear of the platform, providing maximum visibility. The CE compliant SJ16 also has a wind rating feature which, once lifted over 3.7m, alerts the operator.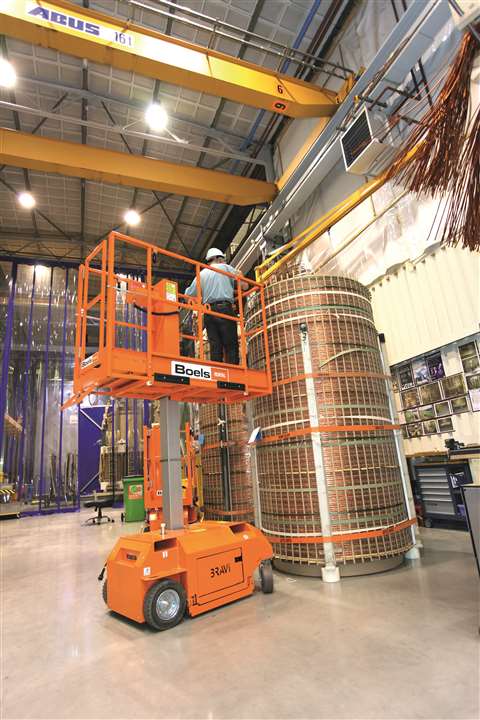 As previously mentioned, the expansion of the low level access sector is helping vertical mast sales. In this area, Bravi Platforms is working on expanding its range of products for light picking. Marina Torres, sales manager at Bravi, says the new model will feature a set of accessories to grow the use of powered access into several new applications within industrial and retail environments. "The first launch will involve an accessory to lift and handle tyres, but more optional attachments will be released in the coming months."
New order
Another example of the expanding retail market for vertical masts comes with a further order from Boels for 50 Bravi Leonardo HD masts, due for delivery in September. The order will bring Boel's fleet of Leonardo HDs to more than 450 units.
The scope of low-level access is also expanding outside its maintenance, industrial, and facility work roots. Matthew Elvin, CEO, Snorkel, says, "As we continue to see trends in low level access products replacing more traditional methods, such as scaffolding towers and ladders, we expect to see growth in both sales and rentals of mast lifts within the construction industry."
In February 2018, Snorkel launched the TM16E, the third model in Snorkel's line. Offering a working height of up to 6.87m, it is designed for contractors and facilities maintenance professionals. The line consists of the original Snorkel TM12 hydraulic drive mast lift, which is now offered as the TM12E and TM16E with a new electric drive system for increased efficiency.
The TM16E weighs in at 1,070kg, while the TM12E has a working height of up to 5.65m and can lift up to 227kg. Weighing in at 884kg, it features a 0.45m roll-out extension as standard, for additional reach indoors and out. "Products, such as the Snorkel TM12, continue to be more widely accepted by contractors, replacing more traditional methods, and therefore we are seeing a greater number of hire companies investing in these lifts." Demand for push-around mast lifts, such as the Snorkel UL series, also remain steady in facilities maintenance applications.
Over the last 18 months, Elvin says the increase in demand from the rental sector has become notable. "Most rental operators are reporting increased demand from job sites and end users for these machines." Elvin adds, "Small volumes will be purchased outright by facilities for maintenance applications. Contractors who require volume have been known to purchase or lease, but this may alter as more low-level access becomes available through the rental channel," adds Elvin.
Terex AWP offers a complete line of masts in the Genie Runabout family. The Genie GR-20J and GR-26J units being the most recent additions, with the GR-26J the latest. The Genie GR, GRC and QS products all have a zero-degree turning radius and compact base size, for access into tight and narrow areas including many elevators. The proportional controls are designed for easy manoeuvring and positioning in finished spaces.
Rental return
Mike Flanagan, Genie product manager, Terex AWP, says, "As jobsites evolve and continue to replace ladders with lifts, the Genie GRJ products offer access into areas that were previously unreachable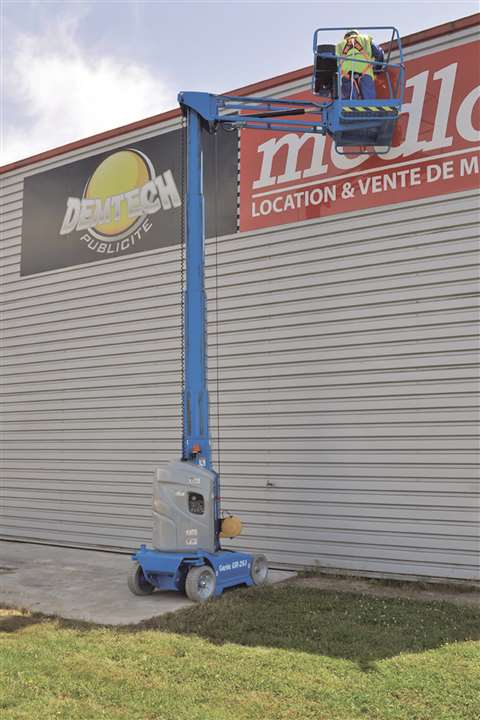 "Vertical masts are often more compact and lower weight than a comparable scissor. Additionally, lower platform heights provide for a better match between machine capabilities and jobsite demands, improving rental return on invested capital for rental dealers.
Flanagan adds, "With their compact size, more machines can fit within the same jobsite area, and with new technology in construction materials and processes, larger platforms, extension decks and capacities found on scissor lifts are not necessary for what are increasingly becoming one-person tasks."
Aaron Haynes, product marketing manager for low-level access products at JLG Industries, which also owns low level specialist Power Towers, agrees low-level access is becoming increasingly popular in finished work applications, where ladders and scaffolding have traditionally been used. "For JLG, we have seen an uptick in customers interested in finding ladder alternatives. Many companies are beginning to adopt policies that either prohibit or drastically restrict the use of ladders on their premises. This development has sent facility managers on a journey for a suitable replacement. Products like the JLG 830P push-around mast lift and our EcoLift products are intended to make that journey a short one."
Haulotte's Maxime Girard, product manager – Americas, confirms this view. "With more general contractors banning ladders on jobsites to prevent injuries from falls, we are seeing a greater need for small footprint access platforms to work in traditionally heavy-duty construction sites. "Even the smallest scissor lifts are sometimes too large to fit around tight corners or too heavy for some floor loading requirements."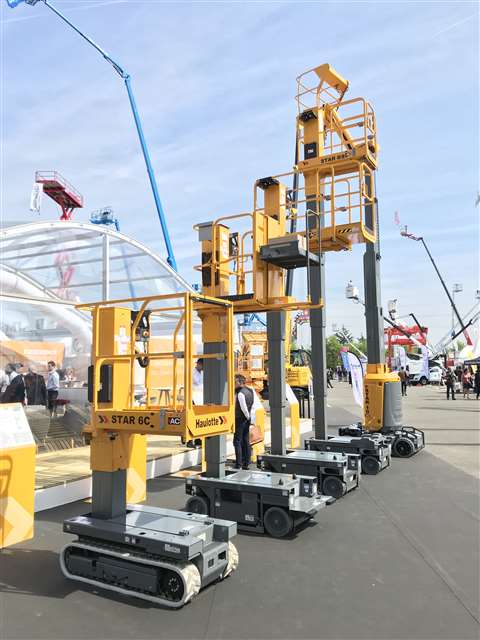 Girard says the vertical mast is one of the company's largest growing sectors. "This is mainly due to its small footprint," Girard explains. "For maintenance, stock picking, and finishing applications that only require one worker."
At Intermat, the Paris exhibition which took place during April this year, Haulotte was launching into a new area of mast lifts for the manufacturer. Its Star range was enhanced by the addition of Haulotte's first tracked mast, the Star 6 Crawler. It has a lifting height of 6m and adds new applications, including industrial and building maintenance and finishing work like plumbing, electricity and air conditioning.
Features of the new crawler include high precision, smooth driving with zero turning radius and a 40cm platform extension. Ease of transport is available thanks to a dedicated fork, while the machine has direct electric drive with brushless AC motors and Activ'Screen on-board diagnostic. It will be available starting September.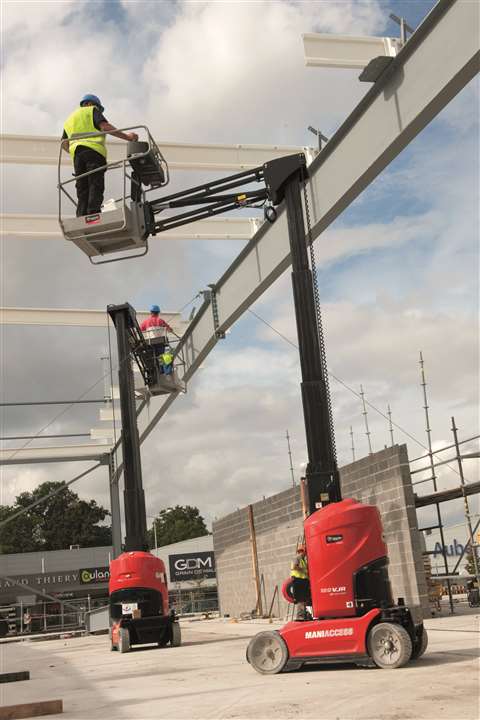 It was joined by the new 8m working height wheel mounted Star 8S, adding to the manufacturer's Star series. Manitou also had a new mast lift on its stand at Intermat. Joining its booms was a newly-launched and updated model, the AWP 100 VJR. The 10m working height mast lift has newly-designed counterweight and turret and is now easily transportable using a forklift. The 200kg capacity machine offers improved lifting cycles thanks to a new lifting pump.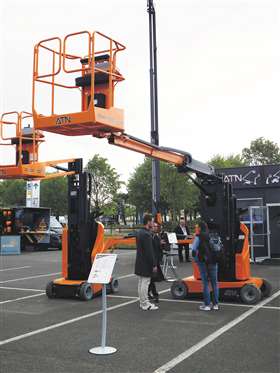 At the show, ATN was also extending its electric vertical mast range. The PIAF 12E-D is an evolution of the Piaf 12E. It offers a 12.65m working height, a 352 degree structure rotation, zero tail swing, a 200kg capacity in the platform and a 30% gradeability. The main feature of the 12E-D is its significant 6.05m horizontal outreach and a platform rotation of 2 x 90°.
Sector challenges
There are a few challenges facing the vertical mast product segment including the new US ANSI updates coming into effect soon.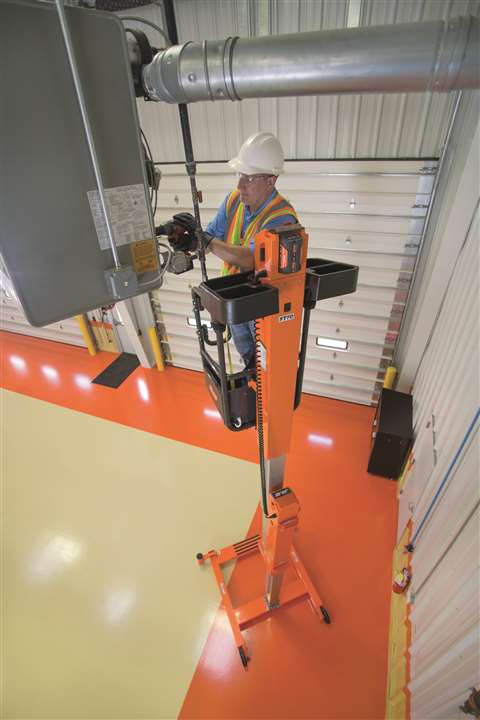 Flanagan adds, For, example, the new standards will now distinguish between indoor and outdoor capable machines. This has not been the case in the past and will require collaboration between the manufacturer, rental businesses and end users to fully understand the change.
Low-level access machines, along with all MEWPS, will need to change slightly to meet new requirements set forth in the new ANSI/CSA standards. Changes may include operational restrictions when exposed to wind, load sense, and slightly heavier and/or wider machine dimensions.
Apart for the rental companies' concerns over initial potential to increase the number of service calls with the new ANSI standards, Elvin adds another challenge, "is meeting the customer's desired lift heights while keeping the overall dimensions of the machine intact. Our vertical mast lifts are designed to fit into common elevators and pass through standard doorways from all dimensions – stowed height, overall length, and overall width."
Schmidt concludes, "As previously mentioned, more companies are seeing a benefit for these machines due to their small on-site footprint and superior manoeuvrability. Due to their stature and lightweight these vertical masts can also go onto elevators, which adds further benefit to multi-level job sites."