GMG: new thinking
By Euan Youdale15 December 2017
GMG (Global Machinery Group), a US-based company with locations in California and the Netherlands has entered the aerial work platform industry. Euan Youdale talks to its CEO Jim Tolle.
There is a new AWP company in town, or, more accurately, on the planet, for GMG (Global Machinery Group), as its name suggests, has ambitions far wider than its home country in the US.
Adding to that, the new company's first launch will be in the access sector, although production of earthmoving equipment is already underway. The key aim is to serve the rental markets, which includes, in GMG's case access, earthmoving and industrial equipment, for now.
Heading it all up is CEO Jim Tolle, who until January was vice president of international sales for MEC Aerial Work Platforms, which is also headquartered in the US. Mr Tolle explains he is still representing MEC products in Europe, but there is no connection between MEC and GMG. Indeed, it is a completely new entity borne into a gap in the market, that Mr Tolle says reflects the modern world.
Much of the information about the structure of the new company remains under wraps, at least in the short term, and certainly ahead of the first product launch of its slab scissor range in May, at the Vertikal Days exhibition in Silverstone, UK, May 24-25.
The New models include: 10ft (3m) 1030-PA, 13ft (4m) 1330-ED, 19ft (6m) 1930-ED, 26ft (8m) 2632-ED, 33ft (10m) 3346-ED, 40ft (12m) 4046-ED and the 46ft (14m) 4646-ED. All self-propelled models come equipped with direct electric drive for quiet operation and extended duty cycles.
GMG had hoped it would also show its new scissor line at APEX, in Amsterdam, the Netherlands, which takes place early in May, but the timings did not work out. Its basic aim is to sell top quality machines at low prices, which is possible due to the company's lean structure and manufacturing, using different manufacturers for each of its product types.
Mr Tolle says GMG reflects the evolution of the AWP sector, "There are now manufacturers all over the world, whereas in the past you were just relying on the top five. And rental rates have just been going down and down and they are not going up like we would have hoped, yet the machine costs are remaining the same."
Back in 2001, Mr Tolle started EPW parts, with the plan of offering wholesale parts at wholesale prices. "This had never been done before in our industry. Now, we think this is a perfect time to introduce exactly the same concept with machinery instead of parts, so we put together a plan and analysed the market in great detail."
The next step was to look for strategic partners and manufacturers throughout the world, which involved intensive testing and analysis of their product to ensure its base quality is sound. "Then we send the design and engineering team in to make the changes needed before we label the machines GMG – in some cases there were a lot of changes; it could be structural, or components. So, we try to find the manufacturers that best meet our criteria and take it from there."
Once this is completed, the company goes to market. "That's what we have done with the slabs. The manufacturer builds the machine for GMG based on GMG's specifications then GMG certifies them with proper authorised bodies and we distribute them all around the world."
While the manufacturer of the slab scissors is evidently not in North America or Europe, Mr Tolle won't be persuaded into confirming the location. "We have confidentiality agreements signed for both parties."
Strict criteria
The new line of scissors will sell for 10% - 25% less than any of its competitors, claims Mr Tolle. "It must be aggressively priced. We are not going into the market with machines that are slightly higher or equal to those companies that have been in business for say 20 years."
There are three criteria that GMG adheres to in all its decisions:
1: All products are equipped with the latest innovations and designs, providing customers with environmentally friendly machines, longer duty cycles and less required maintenance. "The slabs are direct electric driven we will not go with hydraulic driven machines; it is just outdated, it's inefficient and you don't get the duty cycle out of a hydraulic machine that you do with direct electric."
2: Excellent product support with two year warranty standard, in order to accomplish this all components are of high quality and are extremely durable. "We must be able to have reliable components, there is a lot of behind the scenes work that goes in to those key components; the drive system and controls, and so on."
3: Industry leading pricing, even with the latest innovations and durability requirements.
Mr Tolle confirms, "To achieve those three targets the manufacturing just cannot be done in North America, it's impossible, mainly due to the pricing."
Apart from manufacturing in regions such as Asia, how does GMG keep its costs so low? "Here's the key," explains Mr Tolle, "Basic items like wheel motors, the control systems - the things that all manufacturers buy from other entities - represents 30% of the cost of the machine, no more. The rest of the cost is in structural, assembly and painting and so on."
He adds, "Look at all the countries out there that have the ability to produce products; what they lack is the Western philosophy and design, the polishing, if you will, of the final product."
Most manufacturers source from companies around the globe anyway, a global sourcing environment, so why not take it to the same level?"
The company also operates under a very lean arrangement. GMG has low overheads, with no directly-owned plants and related facilities, which helps bring the costs down. "We are lean, the costs for us are low, so we do not need to see the margin, or the profits, some others companies show, we can pass that on to the customer."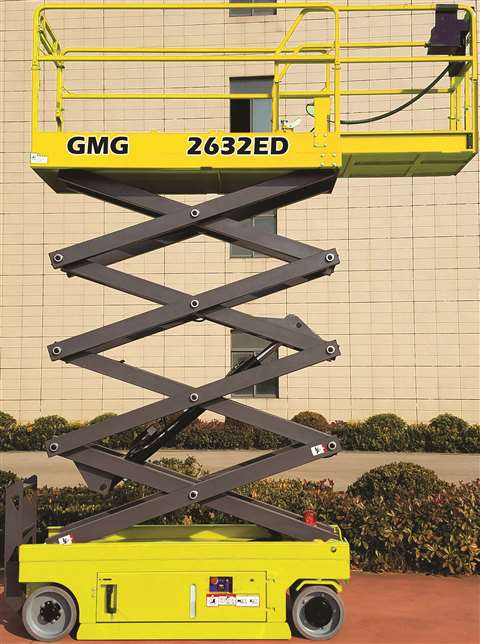 But Mr Tolle insists GMG is not merely a 'middle man' between the supplier and customer. "Absolutely not, not even close. The effort and experience that went into making these considerable changes [in chosen manufacturing partners] is extremely large and has been extremely costly. We know access equipment, all our people do." Indeed, the company already employs some 15 sales representatives in markets as diverse as the Middle East.
He adds, "Finding the right manufacturer with the right skills, in the right part of the world is no easy task. "The key thing is to select manufacturers that are aggressive, that want to grow, that have the financial capability to grow and partner with them."
No conflict
Mr Tolle doesn't see many major conflicting interests with a scissor manufacture that is producing products for itself and GMG. "With the huge changes we are making to that manufacturer, there is no doubt they will implement our changes into their own products, but because the volume of purchasing is so extremely large we consume a lot of their production capacity, so we are not too worried about competing against that manufacturer. The key is that we don't use the same manufacturer for every product. They may compete with us on the slab scissor but they won't compete with us on say a 150ft boom, or whatever we produce next, because they don't make it for us."
Mr Tolle also remains tight lipped concerning the personnel structure of the new entity. While he does have a partner, that person must remain anonymous, at least for now. "We are financed well enough to do whatever we need to do. I am deeply invested in this company, and so is other person involved; we are committed. Do we have other financing? Absolutely, we would be silly not to."
The new company is also focusing on earthmoving and industrial equipment with the key factor being they are all aimed at rental. As such, with aerial work platforms representing a high percentage of most rental fleets, GMG's main focus will be on this product type, at least for the foreseeable future.
Next up will be pedestal mounted booms. As Mr Tolle concedes this reflects a departure from the high volume potential of slab scissors into a more niche product type. It also demonstrates the company's philosophy of targeting markets where there is growth potential, whether the actual sales numbers are big, or that much smaller.
There are seven models in the slab range – the full family, with the next models being pedestal mounted booms. "It's not a big market but it's one that produces quite a lot of machines but the pricing is not that attractive for all the customers. We take a hard look at what is 'the low hanging fruit' – what can we make the most impact on?
"Starting with slab scissors was an easy decision, people buy them in high volume and they are a commodity item. The mast pedestal booms, which do not sell in high volume but they do sell for a lot of money."
In North American the company has skid steers, excavators and drop deck mini cranes. "They are in production now."
The scissors will be at Vertikal Days and then there will be a flood of other machines behind that being introduced.
And the orders are flooding in too, says Mr Tolle. "We have pre-orders, much more than we ever expected, including with major rental companies. People want to see the machines and kick the tyres so once the machines hit the ground we are doing the old fashioned 'tow and show'. We are putting them on the truck and taking them to large and medium rental companies globally, not just in the States but in Europe too."
Quantities of sales is also not something that Mr Tolle wants to talk about, "We are trying to keep this under wraps. But I can tell you it's much more than we forecasted. The original plan was to keep inventory both in Europe and the US and we are struggling to achieve that just because of the presales."