GMG scissor sales in the Netherlands
By Euan Youdale20 October 2017
The Netherlands-based rental company HWS Verhuur has taken delivery of its first GMG 4046-ED electric drive scissor lifts.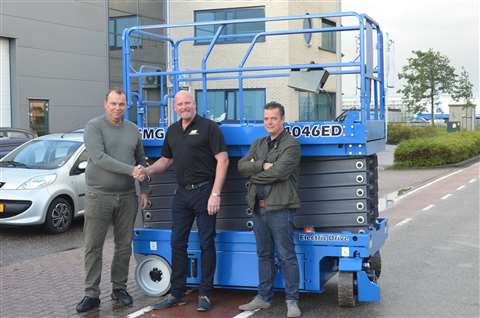 The electric drive 14m (46ft) working height scissor lift was introduced earlier this year by GMG.
Allard Maij, commercial director and owner of HWS Verhuur commented, "We are constantly looking for better solutions for our customers, GMG's 4046-ED has the highest lifting capacity and a very smooth control system. What impressed us most was the gradeability of the direct electric drive system and the fact that the components used in GMG's machines are US-made."
GMG, based in California, USA, debuted its direct electric scissor line at Vertikal Days in May. GMG's CEO Jim Tolle, said, "GMG needs an edge other than wholesale pricing. The slab scissor products are a very competitive product; we certainly tick the box of aggressive pricing but customers do not buy on price alone.
"Our 4046-ED has the highest rated capacity, is direct electric drive, uses US made components for reliability and has tackled an area most tend to sacrifice, platform width. Customers want machines that reach higher heights, the nice thing here is manufacturers are listening but they achieve this aggressive height by sacrificing platform space or the ability to operate slide out decks at height.
"We worked hard to find an alternate solution which our customers have recognized and appreciate."
GMG has a full line of slab scissors ranging from 13ft (4m) to 52ft (16m) working heights, material lifts and now RT scissor lifts. "I would say 2017 has been a great year for GMG but we are very excited to launch our 2018 collection."