Gollwitzer picks 120 tonne Sennebogen
By Ian Vallely06 October 2016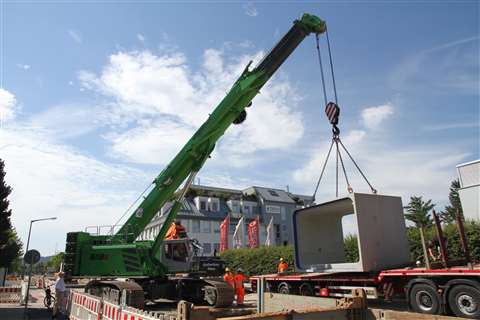 The Gollwitzer Company used a 120 tonne capacity Sennebogen telescopic crawler crane for construction of a 90 metre storm water reservoir in the German town of Neumarkt.
The pre-cast concrete components lifted with the model 6113 weighed up to 32 tonnes and were 4 m wide. They were installed piece by piece into an underground sewer overflow system.
The 6113 telescopic lifts 120 tonnes and its boom extends to 40 m. While suspended from the crane's hook, the construction elements must be moved 25 m. The crawler undercarriage makes it possible to use the telescopic crane not only to lift the load safely, but also to move, extend and retract the load suspended on the hook.
The machine was leased from the sales and service partner IBS Industrie-und Baumaschinen Service for this operation. The width of the crawler drive can be varied and the outriggers are adjustable between 6.30 and 3.90 m.