GOMACO has a commanding position
By Mike Hayes13 March 2019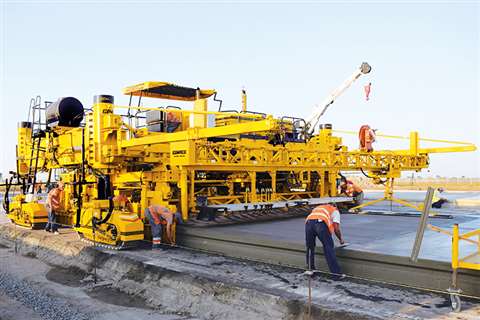 GOMACO's new GP4 slipform paver is capable of paving widths up to 12.2m
GOMACO will bring its zero-turn-capable pavers for manoeuvrability to Bauma, saying that contractors around the world face the same job-site challenges, from short runs, tight radii and corners in parking lots, to a multitude of obstacles to pave around.
GOMACO's Xtreme curb and gutter machines are said to be able to handle these challenges, and can also slipform a 610mm radius or less.
The new Xtreme three-track Commander IIIx and two GOMACO 3300s with the exclusive GOMACO G+ control system will be on display.
These machines feature rotary-sensored slew drives on the tracks, sensored leg positioning, and independent travel circuits to each track to allow tight radius slipforming. Intelligent All-Track Positioning is accomplished with smart hydraulic cylinders on the three legs which allow G+ to know the position of the tracks at all times.
The Commander IIIx and 3300 feature Tier 4 engines and optimised cooling packages with G+ controlling the hydraulic fan. G+ quiet technology is said to make these some of the quietest pavers on the market today
GOMACO's zero-turn capabilities are incorporated into its large pavers as well. GOMACO's new GP4 slipform paver, capable of paving widths up to 12.2m, will make its international exhibition debut at Bauma.
The GP4 has a dual-telescoping roller frame with smart cylinders and smart telescoping for accurate frame widening and automatic width reference for easy and accurate steering setup. The modular roller frame telescopes up to 2.1m on each side for a total of 4.3m of telescoping ability. The GP4 paver is equipped with Smart Pivot Arms for leg positioning, as well as Smart Track Steering technology. It has Extreme Steering capabilities that work together with the paver's G+ control system, so G+ knows each track's location and position.
The GOMACO GP-2400 is the company's smaller, economical slipform paver capable of slipforming widths up to 7.4m, with 2m of telescoping ability on the left side.
Completing GOMACO's Bauma 2019 display will be the Curb Cadet, the highly mobile and compact curb machine. The Curb Cadet slipforms concrete curb or extrudes asphalt curb from either side of the machine. It is self-propelled and manually steered with the handle containing the controls. The Curb Cadet is a two-track curb machine, with the option for three tracks.