Good cause for BNC Crane
By Laura Hatton23 December 2015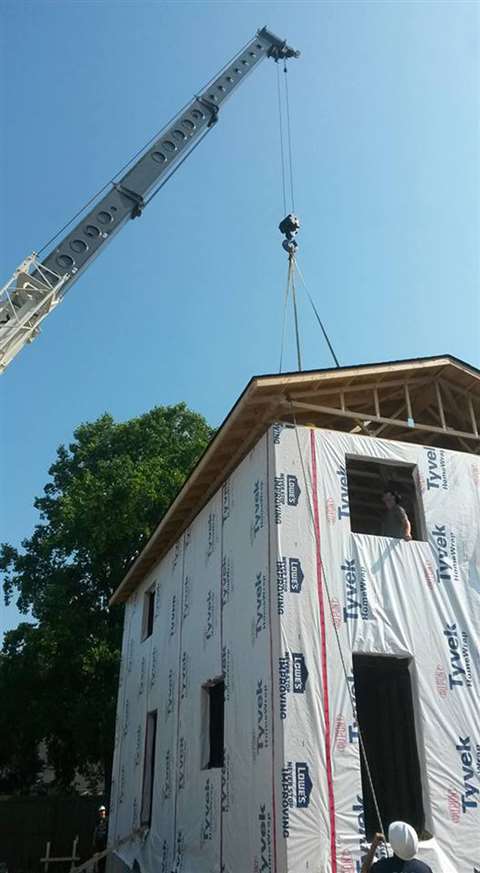 BNC Crane Services, headquartered in Brantford, Canada, has used its Terex T560-1 telescopic truck crane to help out with a Habitat for Humanity project in Ontario, Canada.
Habitat for Humanity in Brant has built 19 new homes in the area since 1999 through help from volunteers. BNC Crane Services donated its services to help lift a roof into place on a two-storey house.
The new home was being built in an existing neighbourhood, which meant working on a small jobsite. Other challenges included navigating around electrical wires and other houses next to the site.
The Terex T560-1 was required to lift the 3.6 tonne roof at a radius of 16.7 metres. Brad Moore, owner of BNC Crane, said, "The Terex T 560-1 crane's compact chassis configuration was beneficial for achieving the proper positioning in the tight working quarters. It only took us 15 minutes to get set up. My apprentice and son, Nathan, worked with Habitat for Humanity's volunteers to strap the roof, which was pre-built on the ground, including sheeting and shingles, and from there, I had to perfectly lift the roof without adding stress to the structure. The whole process went smoothly, and two hours later the roof was in place and secure."
The T 560-1 truck crane was purchased in March 2015 from Terex Cranes Cropac Equipment. Dan Sweeney, Cropac Equipment sales representative, said, "We've worked with BNC Crane for a long time. They work hard and are well-respected in the area. When they were in the market to upgrade their equipment fleet, they did their homework. Brad [Moore] knew exactly what he wanted in a crane. And, the T 560-1 was the perfect unit for their needs."
Moore added, "We do a wide range of jobs around the area. Our work varies from performing large jobs, like steel erecting, mounting air units, installing concrete and roof trusses, to smaller residential jobs, like installing hot tubs, swimming pools and moving decorative rocks. We needed a machine that could lift up to 60 US ton [54.4 tonnes], while having the versatility to perform smaller jobs fast and efficiently. And, that's exactly what we get from our Terex T 560-1 truck crane.
"Prior to purchasing this unit, we've been primarily using boom trucks, which limited us a bit," Moore added. "Purchasing a telescopic truck crane is a good investment, and we expect it to help us get additional work."
Through volunteer labour and donations of money and material, Habitat for Humanity builds and rehabilitates affordable houses with the help of the homeowner family. Homes are sold to the families at no profit and are financed with geared-to-income, no-interest mortgages.