Good vibrations
By Helen Wright06 February 2015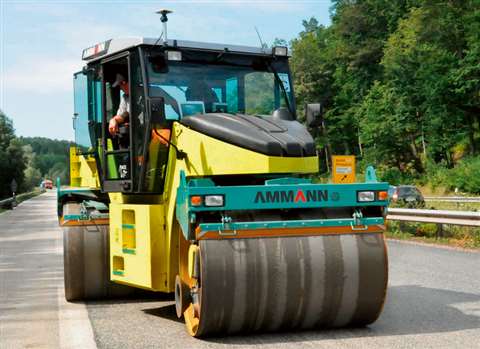 The compaction market has seen changes over the last few months, with new electric/battery powered machines making their debut on the market, an increasing focus on compaction control technology and new methods to tackle the impact of vibrations on operators.

In Europe, the market has seen the entrance of Hitachi Construction Machinery Europe (HCME), which launched a new light compaction at the 2014 International Rental Exhibition.

Joep van den Maagdenberg, HCME product specialist, said the company already produced compaction equipment in Japan, and was now offering a range for Europe (imported from Japan).

"Since the launch in June 2014, we've seen lots of interest from potential buyers, including rental companies," he said. "We want to become a one-stop-shop for customers, and considered that adding light compaction equipment in Europe could be an additional value for our dealers.

"We want to get on to the market and introduce our product, but we are also keen to get some feedback from customers. With this kind of introduction, you could rush and go full speed ahead, but you may get bounced back by the market. We want a reliable, quality product that is recognised by the market.

"We know we face experienced competition, and I think availability, services and after-sales are crucial to stand out. If the demand is there we would expand the range. But first things first - we will see what happens with this introduction and listen to the feedback."

The ZV-R rammers feature a low-vibration handle, user-friendly throttle lever and visible oil gauge, while the ZV-RL and ZV-RLS models were lightweight and featured Pipe Guard engine protection.

The ZV-PR reversible vibratory plate compactors feature a durable base plate helps to absorb shock, resulting in a longer life for the machine, and can operate in forward or reverse mode. Finally, the TMR65KDS walk-behind roller features a 650 mm drum width and was designed for ease of maintenance thanks to a one-touch keyed gull-wing engine cover and a pull-out sprinkler nozzle for cleaning.

Mr van den Maagdenberg said the company expected to see industry levels of investment in compaction equipment increasing in Europe, with the highest potential in Scandinavia and the UK.

"We are looking at about half direct sales and half sales to rental companies. But we are seeing a trend towards rental – if you look at the transparency of rent vs buy, there is a lot of great data out there. Anyone can collect the information and make a calculation as to whether it's better to rent or own."


A rental business


Meanwhile, Hugo van Oostrum, Europe area manager for Caterpillar paving products, said compaction was increasingly becoming a rental business.

"This is particularly true for utility compactors – the small double drum rollers – at least 80% of which are going to rental. That's up from about 50% to 60% five years ago. The reasons are that utilisation is fairly low, it's very often a standby product.

"You do need to have it on site but you don't need it all the time. In general if you get 1000 hours a year, that's really a lot, and that compares to much higher utilisation elsewhere in the construction equipment sector."
Mr van Oostrum said Caterpillar only had dealer rental facilities in a few countries in Europe, so the independent rental companies were becoming increasingly important for the manufacturer in this region.
"The requirements for the ideal rental product differ quite a bit from country to country. Demand from the independent rental companies is by far the strongest in France and the UK, where demand is generally geared towards utility compactors, while in Germany – where we have our dealer Zeppelin Rental – demand is more for soil compactors."
He said ease of operation and ease of transport were key rental concerns in every market, while maintenance costs were also very important.
"Industry forecast wise – we think that total compaction industry in Europe is about 8000 units, with rental representing upwards of 70%. We are very busy with telematics at the moment – we have our Cat compaction control systems as well as our Product Link technology.
"In some areas, rental companies absolutely want to have it on – they know where their machine is and how its running. But not everybody understands advantages yet, but we see this changing.
"Telematics and machine control systems really increase the production of the machine and I do believe that the requests for those systems will grow. I think we will start seeing contractors demanding this type of accountability on projects."
Machine control
Another manufacturer with an eye on telematics and machine control technology is Ammann, which put its compaction control system to the test with a research project, conducted together with three other manufacturers on the B10 motorway near Pirmasens, Germany.
One paver and twelve single drum rollers were in action on five kilometres of road – contractor Juchem spread the asphalt mix with the paver, and rollers from Ammann and three competitors took care of compacting the sections assigned to them. The finish was applied by an Ammann tandem roller equipped with a disc spreader.

The client, the Federal Highway Research Institute, and the project supervisors, the Institute for Highway Research at the University of Siegen, said the aim of the study was to demonstrate the influence of comprehensive compaction control on the quality of the finished blacktop.

The three pivot-steered Ammann AV 95-2 tandem vibratory rollers with a working weight of 9.5 tonnes were fitted with the company's ACE compaction system together with Topcon GPS technology.

Ammann said increases in load-bearing capacity were measured as the rollers made each pass and the compaction output adjusted accordingly. The ACE system regulates amplitude and frequency continuously and steplessly in consideration of the asphalt temperature, and also automatically transfers the steplessly generated amplitude vertically into the substrate.

Thomas Remy, sales manager at Ammann, said, "To be involved in this research project as one of the four 'protagonists' is of importance to Ammann. The assignment is considered a meaningful reference project.

"Our ACE measurement system serves companies as a self-monitoring tool and enables drivers to achieve the best compaction results with as few passes as possible. Permanent measurement and automatic control during the asphalt installation process are decisive factors."

Meanwhile, as part of its 2014 Road Technology Days, a customer event attended by nearly 3500 people, Wirtgen Group took the wraps of new machines from its Hamm compaction brand.

The H 5I and H 7i soil compactors cover the 4.5 to 8 tonne classes, and one interesting design change is that the rear wheels are now driven by wheel motors instead of an axle. Hamm said this improves climbing ability and increases the ground clearance of the machines.

The two models are due to go into full production at the end of this year, with commercial availability from January 2015.

Also new from Hamm are the DV+ 70i and DV+ 90i tandem rollers, available a double vibratory roller (VV), an oscillatory roller (VO - a vibratory and oscillatory drum) and as a combination roller (VT).

One of the most striking things about the compactors is that they look almost identical from the front and the back. Indeed, Hamm said this was part of the design philosophy, which extends to the 180° rotating seat, allowing the operator to be comfortable whatever the direction of travel.

Production of the DV+ is scheduled to start at the beginning of 2015, with availability from the spring. Meanwhile, Wacker Neuson and Wirtgen have entered a strategic alliance for soil and asphalt compaction rollers, starting in February.

Under the deal, Wacker Neuson said it would source rollers from the Hamm factory in Tirschenreuth, Germany, and distribute them via its own sales network, focussing initially on markets in Germany, Austria and Switzerland. We'll have an update on these new models in the next compaction focus.


Electric drive


Meanwhile, Hitachi's Mr van den Maagdenberg also commented on the recent trend for environmentally friendly electric drive or hybrid construction equipment – a trend that is also making its mark in the compaction sector. He said commercial viability and reliability were key considerations.

"Rental companies really are the ones that test these types of machines in the market. I've seen some of the new electric products that have been launched, and I think there is always an issue – particularly with compact lines – that these machines are used on muddy, dusty job sites, and their electric components need to be reliable.

"However, from an environmental point of view there is a need to keep an eye on these product developments. Certainly Hitachi has the tools in its wider organisation – look at the AC-drive in its dumper trucks, for instance, which use electrical drive motors. We will watch this part of the market closely."

Last year, Altrad Belle introduced its first ever electric powered plate compactor in the form of the PCEL 400E (see April/May IRN), and since then Wacker Neuson has also launched a new rammer range with an electric motor for emission-free work without a power cable.

These new rammers will be available in two versions in 2015 – the smaller AS 30 model is a special rammer for the compaction of pipe gussets, while the larger 50 was designed for all traditional rammer work.

The company said users could save around 63% in energy costs by using this technology compared to traditional designs. It said the batteries of both machines could be removed without tools so that the operator can exchange the discharged battery with a charged battery in a few steps.

It added that the lithium iron phosphate batteries could operate in temperatures between -10oC and +50oC and still offered over 80% capacity even after 1500 charge cycles.

Alexander Greschner, managing director of Wacker Neuson Produktion, said, "The battery-powered rammer is a real novelty on the market. And it is the result of collaboration with our customers, because we have implemented some requirements here that companies and users have brought to us.

"For example, the battery-powered rammer with zero emissions can fully display its strengths in trench applications and when used in buildings. For emission-free work not only protects the health of the operator, but also expands the range of application of the rammer – and therefore the flexibility of the company."


Vibrations


The company has also worked hard to reduce the impact on the operator when it comes to its other new launches – its latest vibratory plates boast a new centre pole that is said to produce very low hand-arm vibrations, for instance.

The component is for reversible vibratory plates in the 300 to 800 kg weight class and is said to allow under 1.5 m/s2 for hand-arm vibrations. This low vibration level means that an operator can work without a time limit, Wacker Neuson said, citing European regulations.

Weber MT also produces a CF series of forward-moving vibratory plates, and said it had worked hard to reduce the impact of vibrations on the operator.

"Strong vibrations can be a health risk in the long run and can lead to hand circulation problems. However, steering machines with low-vibration guide bars in the desired direction is often difficult," the company said.

Its CF 1, CF 2 and CF 3 vibratory plates are equipped with specially designed guide bars that are said to ensure low hand-arm vibrations as well as excellent machine control. The guide bar has been decoupled from the handle grip – providing an elastic connection between the two components.
This is a feature from the January/February issue of IRN. For the full feature, including extra images and box stories, please subscribe to the magazine: http://www.khl.com/subscriptions