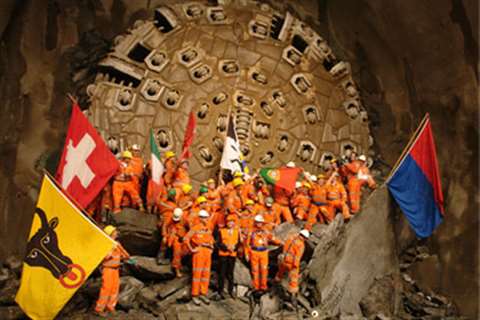 Breakthrough in the longest railway tunnel in the world, the Gotthard in Switzerland, took place on 15 October in the east tunnel, 30 km from the north portal and 27 km from the south portal.
At about 2.30pm, the tunnel boring machine, drilling from Faido, broke through the last metre of rock on route to Sedrun.
The tunnel breakthrough was accurate - at 80 mm horizontally and 10 mm vertically, the deviation was very small.
The 57 km Gotthard base tunnel traverses the Alps, connecting the north portal in Erstfeld (Canton Uri) with the south portal in Bodio (Canton Ticino). The Gotthard base tunnel also claims to be the most deeply set rail tunnel in the world. Together with the 15,4 km Ceneri base tunnel, the Gotthard base tunnel will provide a level track through the Alps.
The base tunnel through the Gotthard is the core of the new rail connection. It is planned to become operational by the end of 2017. It is said that it will markedly improve passenger and freight transport at the heart of Europe. It will favour the shift of north-south freight traffic from road to rail, and shorten the journey time from Zurich to Milan from 3 hours 40 minutes to 2 hours 50 minutes.
The Gotthard base tunnel consists of two parallel single-track tubes, which are connected every 325 m by 40 m galleries. Overall, the tunnel system of the Gotthard base tunnel, including all tubes, shafts and galleries, measures 151,8 km. One and two thirds of the way along, at Faido and Sedrun, there are multifunction stations, which serve as emergency stopping points and places to change track.
The Gotthard base tunnel was built simultaneously in five sections - Erstfeld, Amsteg, Sedrun, Bodio and Pollegio. The first works were carried out back in 1993, with the Piora exploratory boring, and from 1996 to 1998 with the blasting of the access shafts in Sedrun, Faido and Amsteg. Since 2001, the main lots have been constructed. The final breakthrough in the west tube is planned to take place in April 2011.