GPS & Telematics: The digital future
By Sandy Guthrie03 January 2018
The digital world is moving forward at a pace that would not have seemed credible a few short years ago, and what was simply an extended version of a car satnav is now as complicated and diverse as anyone could want it to be.
Communication with a machine now takes in a multitude of different functions, much of it using the cloud – still a relatively new idea – and all of it revolving around data. Without data, there is nothing.
Machines are able to tell head office exactly where they are and how they are operating, and any problems can be flagged.
On the other hand, machines can be told exactly how to perform their tasks, with an impressive level of accuracy.
Artificial intelligence (AI) has now become a reality, and in many ways, it is already being used – from the news feeds on smartphones to the software that enables secure online shopping.
As Volvo Construction Equipment (CE) pointed out, the advantages of AI are limitless and permeate not just everyday lives, but across all industries. This includes the automotive industry, with the emergence of self-driving cars which could lead to a faster mode of transportation and a significant reduction in accidents and emissions.
Volvo felt that a similar statement could be made about the construction industry. Early adopters are already using the technology to increase the efficiency, safety and quality of construction projects.
Volvo said AI was a collective term used to describe when a machine mimics human cognitive functions, like problem-solving, learning and pattern recognition.
It added that AI included a process called machine learning, whereby algorithms are used to enable a machine to learn from the data it is exposed to. Therefore, the more data to which a machine is exposed, the better it will become at understanding and providing insights.
For the construction industry, Volvo said the volume of data generated on an average construction site was growing – from images captured via mobile devices, to drone videos, security sensors, machine telematics, BIM and more.
It said, however, that the main challenge was not capturing all the data, but rather, implementing a system capable of managing the information, allowing customers to make the most out of it.
It said AI programs delivered precise data and insights, helping construction contractors maximise the safety, value, and productivity of worksites. For example, Smartvid.io – a photo and video management platform used by construction companies such as Skanska and Arup – uses AI to sift through mass quantities of images and videos taken at a construction site, and to spot potential hazards.
Image recognition
The software uses image recognition algorithms to identify specific search criteria, like hard hats, safety vests, and hi-vis colours so that it can unearth images to highlight those construction workers who are not wearing the proper safety attire or are possibly violating safety guidelines.
Within a matter of minutes, the search results are collected, collated and delivered to a site supervisor – a task that would otherwise take several hours to complete.
Manufacturers like Volvo CE are also exploring how emerging technologies can increase the safety of job site personnel.
After launching in 2015 Compact Assist, an operator assist program, Volvo CE is now developing AI algorithms which detect and decipher specific objects using several computer vision methods. The advanced system sends a warning message to the operator to reduce the risk of accidents.
AI has other benefits, like performing mundane, repetitive and sometimes dangerous labour-intensive tasks.
Dr Fares Beainy, machine intelligence programme leader at Volvo CE, said, "AI techniques can help inexperienced machine operators to carry out complex tasks, which they otherwise could not.
"It's advantageous in an industry that's finding it increasingly difficult to source highly skilled and experienced operators."
Organisations must transform to meet the new digital world, according to Geoff Roberts, director of energy industry strategy for Oracle Construction & Engineering.
He cited a recent report from management consultancy firm McKinsey & Company which said, "Digital technology is disrupting capital projects. Companies that want to emerge as leaders must transform their organisations now."
Roberts said, "Calls for change in engineering and construction are nothing new – organisations have long sought solutions to the stubborn problem of flat productivity. But as this history underscores, more change isn't what's needed."
He agreed with McKinsey that organisations must transform.
"Whereas 'change' suggests incremental movement away from a former state that could be restored, 'transformation' entails organisations fully reimagining how they operate – and reinventing themselves accordingly."
For Roberts, technology is the engine for that transformation. McKinsey found that as technology solutions disrupt project management, "companies that do not innovate will find themselves at a disadvantage".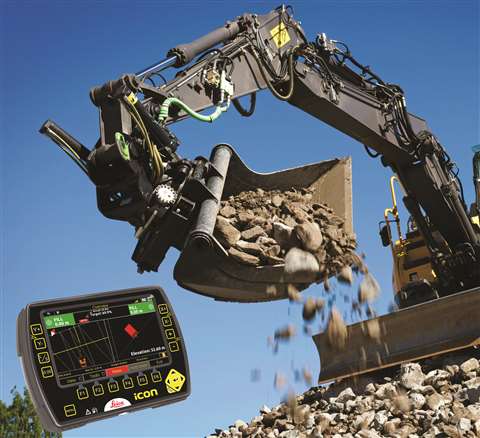 The report notes that a recent McKinsey analysis found that current digital technologies, applied "comprehensively and efficiently", could reduce overall project costs by as much as 45%.
He pointed out that McKinsey also highlighted key areas where organisations could focus digital transformation efforts, including project portfolio planning.
Noting that software can assist decision making – for example, comparing projected outcomes for two potential portfolios – McKinsey said that "in one portfolio of small to mid-size projects, a company determined it could achieve potential savings of 20 to 30%".
He added that the report said that savings of 5 to 20% could be achieved by deploying digital tools in onsite progress and productivity, contractor management, claims management, etc.
"What we have seen in the industry to date is a mixed approach," said Roberts. "Some organisations are employing a mixture of digital tools from various vendors and relying on IT to manage the interaction of data.
"Others are moving more toward a minimum vendor strategy and requiring those vendors to ensure the data models work for the organisations.
"To ensure the maximum benefits are realised, it makes sense to adopt an approach that ensures digital technologies are additive in terms of benefits derived, rather than detrimental due to technology differences or data impacts."
He said that Oracle, like McKinsey, recognised organisations' need to transform to realise real, lasting productivity improvements.
"That thinking has driven our development of cloud-based capital projects solutions supporting collaboration, visibility, integration and efficiency throughout the project lifecycle.
"Step changes and half measures haven't worked – it's time for true transformation to drive engineering and construction forward," said Roberts.
Right direction
The indications are that construction companies are heading in the right direction. The Digital Change Survey from global enterprise applications company IFS shows that companies are focused on driving process efficiencies through investments in technologies for digital transformation.
The report said that the fact that the construction, engineering and infrastructure industry was characterised by its delivery of unique projects, typically delivered by groups of contractors and sub-contractors working in collaboration, meant complex, sometimes unpredictable and tight cashflows and, as a result, even tier-one construction firms frequently found themselves in challenging financial positions.
It said that digital transformation played a vital role, as pressure to deliver construction projects on a shorter timescale, for a lower cost and to a higher quality, was found across the board. Foreign competition and non-traditional firms, including asset managers, are creating an additional burden, it said.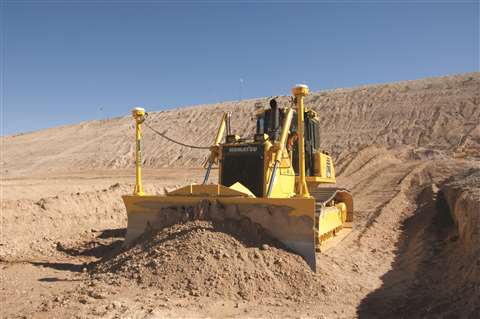 The study highlighted that the main driver for digital transformation was process efficiency (44% of respondents), followed by improved reporting and decision making (39%).
Enterprise Resource Planning (ERP) tools (46%) were flagged as the number one capability identified for investment, highlighting the need for more mature centralisation and management of data internally, said IFS. This was followed by Big Data and analytics (45%) and Infrastructure as a Service (37%).
The survey found that 39% of construction sector organisations considered themselves digitally advanced, second only to aviation among the sectors IFS studied.
However, this varied significantly by size of company. More than 21% of the largest firms (over $25 billion) considered themselves fully optimised to leverage digital transformation, while the figure was just 11% among the smallest players ($1 to $4.99 billion).
Kenny Ingram, global industry director for construction and contracting at IFS, said, "Construction firms are recognising that in order to improve efficiency they need to offer services that manage the total lifecycle of an asset, as opposed to purely its construction."
He said this meant using tools to monitor and quantify the performance of those assets in real-time.
"Technologies such as Big Data analytics and ERP software offer powerful platforms to manage this need, and can be used to provide access to additional revenue streams after the asset has been delivered."
GPS and GNSS
In many ways, the agricultural world has been ahead of construction in the adoption of GPS (global positioning system) and GNSS (global navigation satellite system) technology, although some of the requirements are similar.
Hemisphere GNSS has launched the scalable A222 GNSS Smart Antenna, which it said was purpose-built for harsh outdoor applications, and to be suitable for both agriculture and basic indicate systems markets, and other markets requiring flexible positioning.
It said A222's entry price was extremely competitive, with the flexibility to scale and grow as a business expands. It said it could be configured from L1-only to multi-GNSS, multi-frequency, RTK (real time kinematic)-capable.
The A222 was described as adding a system component, empowering equipment manufacturers to deliver their own guidance and control solutions to their customers.
It uses Hemisphere's Athena RTK engine and is Atlas L-band capable. It is said to be easy to mount and has customisable configurations. A222's dual-Serial, CAN, and pulse output options are compatible with almost any industry-standard interface.
As the A222 is Atlas-capable, it boasts the ability to use the new Atlas AutoSeed technology.
Atlas AutoSeed allows users to suspend Atlas use for any period, and the company said that on returning to their last location, AutoSeed rapidly re-converged to a high-accuracy converged position.
The A222 comes pre-configured with Atlas Basic activated. Atlas Basic provides users of both single- and multi-frequency Atlas-capable products the ability to achieve SBAS (satellite-based augmentation system)-equivalent performance anywhere in the world where the Atlas correction service is available.
SBAS uses additional satellite-broadcast messages to support wide-area or regional augmentation – usually multiple ground stations, located at accurately-surveyed points.
When it comes to machine controls, excavators equipped with 2D or 3D excavator guidance solutions from Leica Geosystems and tilt rotators supported by SVAB Quantum can now use a new functionality, iXE CoPilot, that enables the tilt function on a tilt rotator to be handled automatically.
Leica said the tilt would be adjusted automatically so it was held parallel to the surface as the operator pulled in the excavator arm.
Marcus Grevelshøj, product specialist for excavating and wheeled loader solutions at Leica Geosystems, said, "We have developed this new function for three reasons.
"First, to improve the productivity of experienced excavator operators using tilt rotator attachments; next, to decrease the learning curve of less-experienced operators; and finally, to decrease fatigue and stress for all operators as they operate a large machine like an excavator."
The automatic tilt function for SVAB Quantum is now available on all Quantum platforms, and former versions of Machine Control System (MACS) platforms can be updated to support the functionality, said Leica. Tiltrotator brands supported by Quantum and Leica iCON iXE22D solution and Leica iCON iXE3 3D solution will be able to connect to the function.
Tiltrotator manufacturer Engcon is collaborating with Trimble, the machine and excavator guidance systems manufacturer, which has recently updated its systems to the new Earthworks Grade Control platform.
Engcon said it had adapted its ePS (engcon Positioning System) to make it fully compatible with Trimble Earthworks. With Engcon's rapid modification, it is now fully possible to follow the rotation plane in Trimble's upgraded excavator guidance system, it said.
Roberth Jonsson, general manager at Microprop, which builds Engcon's control systems and adaptations for excavator guidance systems, said, "We enjoy solid collaboration with most excavator guidance system manufacturers, and thanks to this, lead times for modifying and synchronising our products grow shorter."
Exchanging 3D data
Earlier this year, Trimble and Komatsu announced that they were collaborating to improve their customers' ability to exchange 3D construction site data between Komatsu and Trimble construction software.
This is aimed at making managing mixed earthworks fleets easier, and allowing for a more holistic view of site operations.
As part of the collaboration, Trimble and Komatsu are working together to develop an application program interface (API) to enable compatibility between their software platforms. Trimble Connect software, a cloud-based collaboration ecosystem, will support Komatsu's KomConnect platform for sharing digital construction data.
The collaboration is in response to customer demand for mixed fleet interoperability as well as support for Japan's i-Construction initiative – a plan to drive innovation and revolutionise productivity on construction sites through the use of information and communications technology.
Trimble said its Connected Site solutions provided contractors with a complete view of site productivity including materials quantity and movement, volume and compaction data, and fleet and asset management information, regardless of machine make or model.
Trimble Connect is a collaboration environment allowing customers to combine and share data from multiple sources, even including those from outside of the Trimble ecosystem.
Komatsu introduced Smartconstruction, an internet of things (IoT) solution for construction site operations, in Japan in 2015. It is said to enable customers to visualise site operations using ICT about workers, machines and surfaces on the KomConnect cloud-based platform to create a safer and more
productive site.
Supporting customers
Chikashi Shike, executive officer and president of Komatsu's smart construction promotion division, said, "Our collaboration with Trimble is an important step in supporting our customers who operate mixed machine fleets, as well as addressing the requirements that will enable construction contractors to support Japan's i-Construction initiative."
Trimble is also involved with Sumitomo Construction Machinery, which chose Trimble as its preferred technology provider for machine control solutions.
Working closely with Trimble, Sumitomo will offer the Trimble Earthworks grade control platform for excavators as a factory-fit machine control solution for the Japanese market.
The solution offers customers two options – 2D Machine Guidance or 2D Machine Control.
As part of the ability to use data successfully, Trimble has launched a high-performance tablet for geospatial applications – the T10.
Aimed at surveying professionals carrying out survey or hybrid survey-imaging workflows that require interaction with maps, images or point cloud data, it also functions as a controller for survey instruments, including the Trimble SX10 scanning total station, and as a field-processing platform
Trimble said that GIS (geographic information system) users in many organisations including municipalities, utility companies, and environmental agencies could take advantage of the T10's capabilities reliably to map, inspect and collect data.
It is said to be ideal for carrying out utility asset inspections, biological surveys, mapping wetland delineation or endangered species, performing maintenance checks on street furniture, road signage, and more. Back at the office, data can be processed and integrated directly into a geodatabase.
TelliQ offers telematics, M2M (machine-to-machine) and IoT solutions to help companies connect their machines and assets to the internet.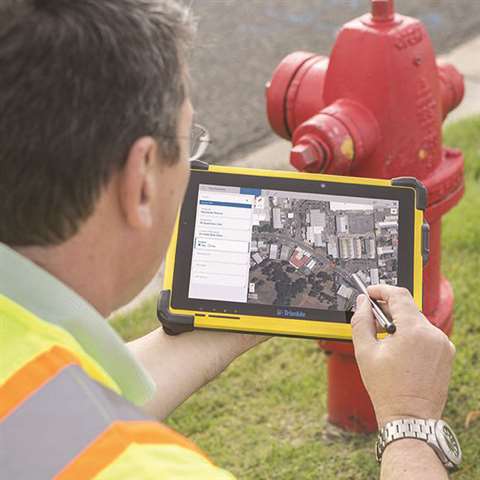 Its TQ12 multi-functional tracker is described as an easy-to-install M2M tracker unit with an internal back-up battery to prevent data loss when there is no external power.
TelliQ said this device was suitable for applications in harsh environments. It has two digital inputs, one analogue and one 1-wire input which can be used to monitor temperature or driver id.
It also has two digital outputs and a USB port for device status log and for entering configurations.
The TQ277 Advanced Machine Telematics Unit is its high end solution for demanding requirements and harsh environments.
It has a Linux based operating system supporting both GSM and 3G for connectivity, and GPS/Glonass for navigation. The TQ277 is said to be suitable for integration and control of heavy machinery and other systems in need of remote access and collection of data.
It communicates with the TelliQ Back Office system using GSM/3G communication as standard, and satellite communication as an external options.
Topcon Positioning Group has released updates to its Delta Solutions deformation monitoring system including software management improvements and advanced modular configurations.
Ian Stilgoe, vice president Europe for geopositioning solutions, said that since the launch of Delta Solutions in 2016, it had seen many systems installed and successfully operated across Europe and North America.
"Now, to build on that success, we are implementing new features for a more comprehensive package that facilitates ease of use."
Delta Watch features new configuration choices using either robotic total stations or GNSS with the ability to add levelling sensors.
"An additional module is available to enable all three sensor types to be combined into a single deformation monitoring system. Whatever the Topcon sensor combination, these can be computed within one combined network adjustment solution," said Stilgoe.
The system now also includes a new optional rail monitoring module.
Stilgoe said, "This new feature is designed specifically for rail deformation monitoring activities to provide the creation of virtual sensors such as cant and twist measurement, or track alignment and displacement."
Delta Watch also features a new monitoring system diagnostics module designed to allow operators to check the performance and health of the internal monitoring system hardware for operational troubleshooting and the planning of any maintenance requirements.