Grand Parkway for Zachry-Odebrecht
By Laura Hatton07 October 2014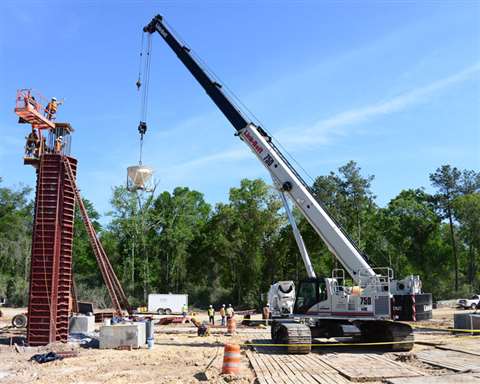 Construction company Zachry-Odebrecht Parkway Builders (Zachry-Odebrecht), has begun the construction of a section of the 184 mile (300 km) Grand Parkway highway in the USA.
Once complete the Texas Department of Transportation's Grand Parkway will form a loop for the greater Houston, Texas, area in Harris and Montgomery Counties, a spokesperson said.
Zachry-Odebrecht is a joint partnership between Zachry Construction Corporation of San Antonio, Texas, and Odebrecht Organization of Salvador, Bahia, Brazil. The company was awarded a US$ 1.043 billion contract to complete a 38 mile section of the Grand Parkway.
The build has a 30 month schedule. More than 120 bridges will be built along the 38 mile (62 km) section. To help with the construction, Zachry-Odebrecht is using 20 Link-Belt cranes. Models on site include six, 60 tonne capacity, RTC-8065 Series II rough terrain cranes, eight 80 tonne capacity RTC-8080 Series rough terrains and six 70 tonne capacity TCC-750 telescopic boom crawler cranes.
The cranes are being used for a number of jobs, including assembly, loading and unloading bridge forms. Tasks include placing 6.8 tonne flare cap forms at a height 10.6 m and at radii up to 15.2 m. The RTC-8080 Series II is also being used to install falsework forms that weigh up to 12 tonnes and measure 12.1 m long.
Travis Mross, Zachry-Odebrecht construction manager, said, "The bridges can be up to 1,219 metres in length because of a wide river or low water crossing and also for planning of future multi-road placements."
Teddie Forman, Zachry-Odebrecht project equipment manager, added, "When conditions for access are not favourable, mobility for the TCC-750 is excellent. So far the production crews and general superintendents have been very happy with those machines. They fit our needs very well in the conditions they work in."