Greek cultural centre opens
By Sandy Guthrie24 June 2016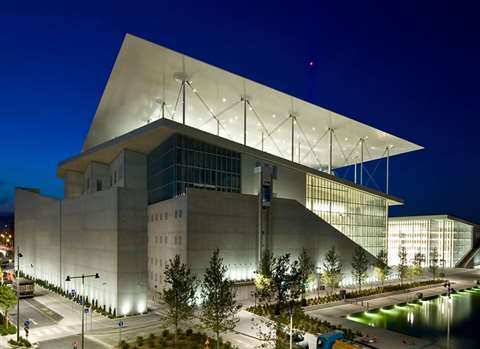 The Stavros Niarchos Foundation Cultural Centre (SNFCC) in Athens, Greece, designed by Italian architect Renzo Piano and built by Italian-based Salini Impregilo, has opened.
The centre, which will be the new home of the Greek National Opera and the National Library of Greece, was announced in 2012.
A Greek company, Terna, was also partner in the joint venture responsible for the project.
The centre's design includes a roof that is a giant solar panel, making the centre energy self-sufficient during the day. It has won a Platinum LEED ranking, claiming to be the first such building in Europe to earn it.
Although it is covering the entire €596 million cost of the project, the Stavros Niarchos Foundation will eventually donate the SNFCC to the Greek state. Stavros Niarchos was a Greek shipping magnate.
Salini Impregilo said the neighbourhood where it was located was in need of rejuvenation, so the centre could be considered part of the urban renewal of the Kallithea neighbourhood by the sea where the ancient port of Phalerum was once located.
The 21ha area covered by the Stavros Niarchos Park was an old horse race track before becoming a car park for the 2004 Olympic Games. The area had been in disuse when Salini Impregilo broke ground. Claiming to have used advanced techniques in erecting mechanical stabilised earth walls, Salini Impregilo made the park slope south towards the sea, rising to a height of 32m to become the roof of the complex of buildings.
Running through the park is a network of footpaths paved with a natural mixture of crushed clay tiles.
Alongside the park is a canal, designed to reinforce the city's link to the sea. The canal also acts as a basin to avoid flooding during heavy rainfall. It is 400m long, 30m wide and 1.5m deep.
A sea water abstraction system and a desalination plant provide water for the canal and the park's irrigation system.
On top of the roof of the opera house, at the end of the park at a height of 40m is the canopy that is said to resemble a huge, suspended wing.
Made by two ferrocement slabs that are each 30mm thick, the canopy covers 10,000m2. Weighing about 4,000 tonnes, it is supported by 30 slender steel columns.
On top of these is a system of springs and dampers that enable the canopy to move under the effects of thermal dilatation, wind and tremors.
Between the canopy and the roof will be the so-called Lighthouse. Its glass walls will offer a 360° view of the sea and the city.
Salini Impregilo was reunited with Piano on this project after having worked together on the Auditorium Parco della Musica, in Rome, Italy. Piano was also responsible for designing the Shard building in London, UK.
Pietro Salini, chief executive of Salini Impregilo, said, "For us, the Cultural Centre represents a dream come true, the chance to build a visionary project by Renzo Piano that many had deemed impossible to do, bringing engineering and art together to realise a project for current and future generations."